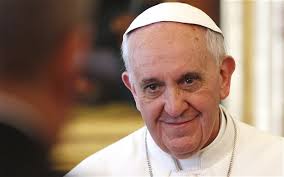 Reading Time:
5
minutes
This year Pope Francis is expected to travel to both Uganda and Israel.  The visits will probably bring into a sharp focus how the Church is dealing with the rising tide of intolerance so visible in a globe allegedly more connected and friendly- than ever before. Anti-Immigration, racism and homophobia will color news articles about the Pontiff's journeys to these two countries if and when he undertakes them.
Last year pictures of children, their mothers and relatives wrapped in plastic bags- having reached the shores of Europe but drowning in the process- shocked many.
But the current that drives droves of young Africans seeking a new beginning abroad remains strong, as does the determination by politicians to legally discourage them.
Nothing will paint a more disturbing picture about this moral pit in which intolerance struggles as much as a visit by the Pope to Israel, the ultimate refugee nation which has begun large scale eviction of illegal African immigrants. Or to Uganda, whose main export is labor, the kind that flees discrimination at home.
Like Nigeria, Uganda earns most of its foreign currency from its citizens abroad. And thanks to decades of instability there are many outside its shores. In choice destinations like Britain, Uganda's former colonizer, a Ugandan is a Nigerian by another name. Or a Ghanaian. They are all black migrants.
The Home Office last year run a "Go Home" campaign dismissed as  as racist by campaigners. However the massive youth bulge and poor conditions at home make the dream of getting to Europe more desirable than the fear of being humiliated by it. Escaping corruption, nepotism, the shanties and ethnic pogroms compares poorly to the tampered and sometimes concealed violence of anti-immigration policies abroad.
This is so even where intolerance at home has undertaken new forms that find resonance with the west. Uganda, like Nigeria has authored a law making homosexuality a capital offense.  In some ways homosexuality is being debated as the final frontier of conservative values at home- a form of disease one catches in the west or from the west. It's a call to stay-at-home or close to home, a culture clash.
Many young people have however woken up to the reality that migrating to Europe as a jobseeker is far harder than as a victim of discrimination by way of one's sexual orientation. Not surprisingly visa applications on the basis of sexual discrimination are on the rise in Uganda and probably elsewhere.  Uganda and Nigeria's anti-gay laws make more news or perhaps as much news as the do-or-die efforts of the migrant who dies on the beach; but less news than the often racist campaigns seeking to shut the door to Africans like the "Go Home" campaign in Britain or worse Israel's "anti-infiltration" laws.
Sometimes they make even more news than the clash between African governments and the forces that wish to reform them. And so the Pope's visit highlights these forms of homegrown intolerance, in the west as well as in Africa. Like popular culture, football, celebrity and politics, homophobia is today avant-garde. But perhaps no country reflects the absurdities of the dilemmas of discrimination of various forms than Israel itself.
Known somewhat ironically now as the "promised land" the planned evictions of thousands of mainly East African migrants from Israel makes it perhaps the "worst place" to be a migrant. Ugandans, in this majority Christian country consider Israel a special place. For devout Catholics a pilgrimage to its holy places, especially, Jerusalem is as important as the Muslim Haj. Israel indeed earns mostly from religious tourism one of its major exports.
Last week's scenes of a sea of black faces camped outside the Knesset demanding to be treated as refugees not "infiltrators" accused of tainting the purity of the Jewish nation left  many scratching their heads. If Uganda is a nation of migrant laborers Israel is a state built by migrants.
And many criticizing the Jewish nation have zeroed in on the undertone of racism behind these evictions. However one only has to visit Israel to see how that patch of dry hilly lands was patiently nursed into the kind of migrants dream.  By contrast if one is leaving Uganda with its lush forests, mountains and rivers; well, this is becomes one extra irony. Jews returned to build Israel. Many Africans are abandoning their endowed countries rather than face the despots and despotism at home to claim that dream. And it is double let down.
For decades the world has known Africans as the devaluation standard for human beings. Slavery and the racism that girded it saw Africans dehumanized as chattels. As sub-humans abroad, during the transatlantic slave trade, they fulfilled the view, still prevalent today, that superior races existed. Even after the civil rights struggle in America put racial equality  to debate for the rest, the condition of blacks in Africa has remained the last refuge of the argument about the backwardness of that color. Uganda in particular is referenced liberally in movies as the cultural password for the baggage that comes being black today; child soldiers, conflict minerals, corrupt governments, a suffering of the black race to which white solutions are applied.
At home Ugandan leaders speak jealously and fearfully about the west, praise lighter colored migrants like Indians and condemn nationals as well "backward".
Nothing has sold the Ugandan "backwardness" brand more globally than its late president Idi Amin who the Israelis helped bring to power and then overthrow. Alternately portrayed a buffoon, cannibal and for effect anti-Semitic, Amin was the ultimate black anti-jew.
Sadly Africa continues to mine the depths of human despair for display around the world that cannot outmatch its debasement abroad by neo-racist policies. In 1994, the genocide in Rwanda shocked the world almost as much as the Jewish holocaust. But lately massacres in Central African Republic and the Sudans (a name that also means black) still depict Africa as the resident evil in our visually connected world.  Uganda has been cheerfully scripted alongside.
After all Joseph Kony, the worlds most wanted fugitive, guilty of war crimes including turning children into killers is a sort of ambassador at large for this sort of narrative.
The ironies of Pope Francis' visits are not even that the dream of a Jewish homeland once considered their resettlement in Uganda (the Knesset celebrates a "Uganda Day" each year). But perhaps that Israel and Uganda with their own brands of discrimination  agreed last year to a solution to immigration headaches that many considered as morally bankrupt as racism and homophobia.
It was revealed that both countries had agreed on a swap. If Uganda can create a new homeland for Israel's unwanted East African migrants, the Jewish state would provide it with modern weapons and some investment. Has not Uganda's violent neighborhood long since made it a refugee friendly country after all and therefore an expert on forced migration? Are not some of the largest refugee populations within the United Nations found there?
So how badly on the scale of moral hazards is this deal?
The Pope's visit to Uganda is planned as a commemoration of one of the most important events for East African Catholics the canonization in 1964 of the Uganda Matyrs, long the symbol of conscience and resistance to power. After 50 years, the volatility of our commonly held views on the morality and essence of power, religion, dissent and discrimination in an increasingly diverse and mobile world does not yield easy answers.
Black or colored migration more prevalent now is especially vulnerable today.  Poverty and conflict remain color-coded as does racism, but the former is larger.
Pope Francis' visit if it happens hopefully can be some source of introspection. Values aught not to be for sale. If however Israel is trading with Uganda, in both humans and values, it's a useful question, which is a greater evil. It may well be that a homeland for unwanted East Africans is a greater good for this day and age. After all this is the era of "Africa rising" or is it?
Comments
comments