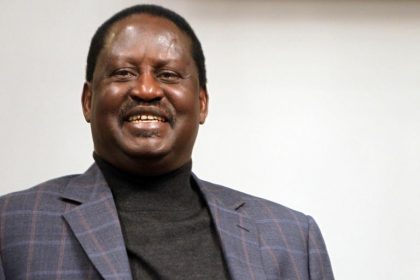 Reading Time:
3
minutes
KENYAN opposition leader Raila Odinga said on Tuesday that he had called President Yoweri Museveni to protest what he called the presence of Ugandan gunmen in the lakeside city of Kisumu, where riots erupted in the aftermath of a disputed presidential election.
The gunmen "have killed quite a number of civilians in Kisumu", Mr Odinga said during an interview on KFM's Hot Seat show on Tuesday evening.
The opposition leader, who claims to have won the disputed  December 27 presidential election, said Kisumu residents had variously reported seeing armed men driven in vehicles with Ugandan registration numbers. But the men were dressed in civilian attire, the Orange Democratic Movement party leader said.
Mr Odinga revealed that President Museveni had denied knowledge of the Ugandan military's presence in post-election Kenya.
"What happened is that there were vehicles with Ugandan registration numbers. They were seen in Kisumu and the occupants were wearing civilian clothes. They have been shooting and they have killed quite a number of civilians in Kisumu…" Mr Odinga said.
"But I had occasion to speak to President Yoweri Museveni who assured me that there are no Ugandan forces in the country, and I have reason to believe what he was saying."
It is possible that the suspected Ugandan gunmen could have been Kenyan police officers using vehicles from Uganda, he said without citing a possible motive.
At least 600 people were reportedly killed in post-election violence in Kenya. Mr Odinga himself says close to 1,000 Kenyans died in ethnic battles. Nyanza Province, Mr Odinga's backyard, was seriously hit by the post-election violence. About 300 of the victims were residents of Kisumu, the province's headquarters.
There has been suspicion, especially among the border communities, that Uganda may have played a silent role in events that led up to bloody turmoil following Mr Kibaki's swearing-in ceremony on December 30.
While campaigning in the border town of Busia last Saturday, Mr Museveni faced questions from a crowd attending a rally at Madibira Primary School in Busia, where he was campaigning for NRM parliamentary contestant Sarah Wasike.
Some members of the crowd interrupted Mr Museveni's speech, asking to know whether he unduly influenced the Electoral Commission of Kenya into announcing President Kibaki as the winner.
But the President dismissed the allegations. "I did not make Kibaki the president. It was the chairman [of the] Kenya Electoral Commission that made him the president," he said.
It appears Mr Museveni's rush to congratulate Mr Kibaki upon his re-election, the first and only message to have come from an African leader, could have raised suspicion. Some analysts have condemned the message, saying it was reckless.
It was not possible to independently verify claims of the Ugandan military's participation in post-election violence in Kenya. But a reliable source who was among the security personnel deployed in Nyanza Province, which takes in Kisumu, said a curious Kenyan army officer identified two Ugandans clad in the Kenya Police uniform.
The duo communicated in Luganda, the source claimed, a language not used in Kenya's armed forces. After a brief interrogation, one of the two gunmen allegedly admitted that he was a Ugandan, before being whisked away by security.
An outspoken cleric based at the Katakwa Diocese in Kenya's Busia District also suggested in an interview with Daily Monitor that Ugandan soldiers could have crossed into Kenya in the wake of post-election violence there.
Rev. Phillip Mwakio said last week that a convoy of six vehicles bearing Uganda government registration numbers were seen crossing the border into Kenya after the Kenya government had closed its side of the border.
"It was at around 8p.m. that these vehicles crossed," the cleric said. "We were surprised that vehicles would be allowed to cross when the border was closed? It was unusual."
Rev. Mwakio said the tinted four-wheel drive vehicles sped past the Busia border gates without the usual security checks and took the Busia-Kisumu road amidst heavy deployment of security.
But the Busia RDC, Ms Robina Nabanja, said the claims were baseless reports being touted by "prophets of doom" intent on souring relations between the two neighbours. The Coordinator of Uganda's Intelligence Services, Gen. David Tinyefuza, described the claims as "rubbish" and an insult to both Kenya and Uganda.
"It is the opposition [who are propagating the claims]," Gen. Tinyefuza said yesterday. "They are trying to incite the Kenyan population against us."
Another knowledgeable source said Ugandan troops deployed to Kotido and Moroto usually enter and pass through Kenya because of the bad roads in eastern Uganda, and that the movements have nothing to do with Kenyan affairs.
Relative calm has returned to Kenya after Mr Odinga called off massive protest rallies in preparation for talks with the government.  But Mr Kibaki's formation of a new cabinet, announced before the start of the talks, has not been welcomed by Mr Odinga, who says he will not give up the presidential battle just yet.
Source Daily Monitor
Comments
comments