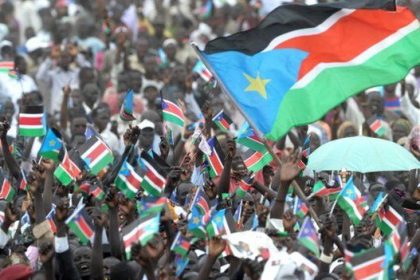 Reading Time:
2
minutes
President Salva Kirr Maryadit of South Sudan has reshuffled his cabinet in what observers say is a response to tribal tensions in the south ahead of a referendum on self rule less than 2 years away. The changes in cabinet were made by presidential decree southern press reported effective from May 31st 2009.
In total 10 ministers were removed with a  new appointments reflecting diversity in the use of presidential prerogative.
New comers include General Oyai Deng Ayak, a former army chief of staff who has been named as minister for regional corperation. The new chief of staff is careerist Maj Gen James Hoth Mai.
The shake-up especially in the army is being reported as something unprecedented .
This news of Deng's elevation will likely be well received in Kampala where Mr Deng has been a senior military liason of sorts between the Ugandan and South Sudan militaries.
He now sits between his former job as military technocrat and now regional diplomat at a time when Ugandan traders have continued to complain about the harassment from the security services, arbitrary arrests, extortion and loss of property while doing business in the Sudan.
Deng who has a home in Nairobi and Kampala will also likely be a point man for regional business heading to South Sudan.
There are some however who say the exit of the former chief of staff from the army is a sign that Mr. Kirr consolidating his hold on the army.
Also new in cabinet  is Peter Abdulrahman Sule at the helm of the grassroots ministry of corperatives and rural development. Sule is the head of the United Democratic Front a political party which favors complete autonomy for south Sudan.
The new cabinet takes office as the semi-autonomous south faces its biggest challenge to cohesion following tribal clashes which claimed the lives of over 1000 people.
The South has also been dealing with general disenchantment over public services and allegations of massive corruption in its government.
The Salva government which has disagreed with its partner the National Congress Party of Omar El Bashir over recent national census figures sees the hand of Khartoum in the tribal wars coming as they have on the eve of a possible secession vote.
OUT
1- Mr. Paul Mayom Akech, Minister of Internal Affairs
2- Mr. Kuol Athian Mawien, Minister of Finance and Economic Planning
3- Dr. Barnaba Marial Benjamin, Minister of Regional Cooperation
4- Mr. David Deng Athorbei, Minister of Transport and Roads
5- Mr. Anthony Lino Makana, Minister of Commerce and Industry
6- Professor Philip Yona Jambi, Minister of Cooperatives and Rural Development
7- Mr. Gabriel Changson Chang, Minister of Information and Broadcasting
8- Mr. Gier Chuang Aluong, Minister of Telecommunications and Postal Services
9- Ms. Mary Kiden Kimbo, Minister of Gender, Social Welfare and Religious Affairs
10- General (Rtd) Albino Akol Akol, Minister of Culture, Youth and Sports
IN
1- Mr. Gier Chuang Aluong, Minister of Internal Affairs
2- Mr. David Deng Athorbei, Minister of Finance and Economic Planning
3- Mr. Oyai Deng Ajak, Minister for Regional Cooperation
4- Mr. Anthony Lino Makana, Minister of Transport and Roads
5- Dr. Barnaba Marial Benjamin, Minister of Commerce and Industry
6- Mr. Peter Abdel-Rahaman Sule, Minister for Cooperatives and Rural Development
7- Mr. Paul Mayom Akech, Minister of Information and Broadcasting
8- Mr. Madut Biar, Minister for Telecommunications and Postal Services
9- Mr. Gabriel Changson Chang, Minister for Culture, Youth and Sports
Comments
comments