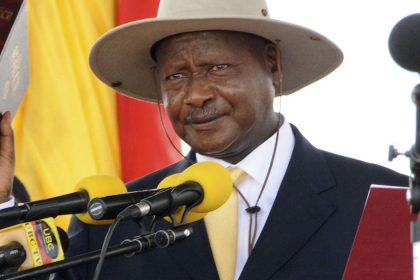 Reading Time:
4
minutes
I have been engaged in a debate with my friend David Mafabi who is also President Yoweri Museveni's private sectretary on political affairs slash institutions.
Museveni – the African Leader U.S. Loves to Hate
The Monitor (Kampala)
OPINION 31 October 2007
By Angelo Izama Washington DC
President Yoweri Museveni's visit to Washington this week will probably be his last for a long time. His first visit to the United States as President was in the October of 1987 when he was hosted by the late President Ronald Reagan, 20 years ago this month.
The revolving door of the White House has seen Presidents Reagan, George Bush Senior, William J. Clinton (served two terms) and now George Bush who is also serving a second and final term, come and go.
Having lifted Presidential term limits however, Museveni will probably be around when the next US President, probably Clinton's wife, Hilary ends her first term as US leader.
Ironically, Reagan is the US President who popularised the promotion of "democracy" around the world as an integral part of US Foreign Policy.
Once again, Museveni's visit shines a dull light on the dubious support the US maintains for authoritarian regimes with questionable rights records like Ethiopia and Uganda, both part of the US response to perceived terrorism threats in the Horn of Africa and once hailed a the "new breed" of African leaders.
The forecast for the Museveni regime, still leaves a mixed bag on how the next US administration will resolve that dilemma if it is resolvable at all.
When Museveni flies in- in a soon to be upgraded Presidential Gulf Stream 4 executive jet, he comes with a lousy record of corruption at home, militarization of civilian countryside and a state pressure on independent media – all part and parcel of his falling legitimacy as seen from his performance at the ballot in the last three elections.
Not long ago, the 63-year-old career soldier and politician was hailed as a new breed of African leader.
While many will frown at his lackluster performance as democratic reformer, Museveni brings with him a flying resume as US partner at a time when a shaky democracy is wobbling in the Democratic Republic of Congo, South Sudan is disintegrating and a spread of fundamentalism in Eritrea threatens to extend the regional conflict already underway in Somalia.
Ugandan leadership and therefore the interests of its rulers, are a key issue for Washington in maintaining the delicate balance of stability in the Great Lakes region, more vulnerable today by security competition related in oil and the failure to pacify rebel breeding areas like Eastern DRC and perhaps even South Sudan.
Besides Somalia, a sticking point in the Bush/Museveni meeting, will be the direction that peace talks with the LRA will take following troubling events within the rebel camp. Information points to the re-emergence of radical and hard-line elements around Kony. His deputy Vincent Otti, who has been a key part of the process, is now presumed either dead or under arrest or duress.
If diplomacy collapses with the LRA, another military exercise, this time in DRC, may become inevitable, effectively tying the fate of Northern Ugandans with that of civilians in Eastern DRC (where LRA is) and South Sudan (where tension between SPLA and Khartoum continues). US diplomats currently prefer diplomacy but have said no open ended peace process is acceptable and that they will support the use of force against the LRA.
Seen with the lens of the region, Uganda is and has been a hub of stability. Its record of holding several elections, managing a steady economy and maintaining an open society through a robust if vulnerable press, excels when compared to Sudan and DRC.
It makes Uganda an important partner, key to clinching the political will for a region wide dialogue to reverse insecurity and return thousands of fighters to civilian life.
As Museveni leaves Washington however, he has to thank China for his continual relevance in the region.
A recent report (now book) by the Council on Foreign Relations, an influential organisation, titled More than Humanitarianism: A Strategic US Approach towards Africa cites three key areas that explain the resurgence of the continent on the US policy map; oil, China, and HIV/Aids.
According to the report, competition from China, especially in extractive industries sector should spur a more aggressive US presence on the continent while Washington maintains its traditional concern for human rights.
However, because China does not play by the rules, its loud presence on the continent is going to increase rather than reduce US engagement with authoritarian but loyal allies like Museveni and Meles Zenawi.
Besides the language of the report that terms US interest in Africa as "strategic and not just humanitarian" (same words used by Mrs Clinton in her foreign policy statement), suggest more pragmaticism than principle.
The report and debate around US-Africa policy here now looks to a restructuring of US-Africa relations with a longer term view which could mean that future administrations in Washington will continuously look to sustaining conditions where democratic institutions can protect those strategic interests.
This time around, President Bush will probably ask Museveni to clean house back home and focus on the challenges facing the region. It's a conversation that Museveni has had four times already with Mr Bush's predecessors. However, the next administration will be asking more questions about accountability back home even as Museveni prepares for a difficult race for the presidency in 2011.
Like one official of the US government told this writer, while they do not like Museveni "we have to work with him".
Comments
comments