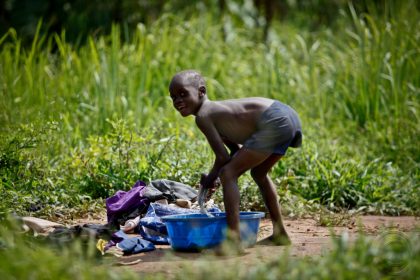 Reading Time:
3
minutes
There are some who have asked what things were like. In this I cannot account for the experience of others. After all, my world was rather small. A long journey in those days was to MTC or the mission. MTC is Moyo Town Council primary school but most people spoke of it like it was a name you could recognize like say the boy calledAmoko. The mission was the Catholic Church. I don't exactly remember the distance but if the second school bell rang before you left the homestead then it was probably a difficult run to get to the school assembly in time. It would be worse if on that day you were carrying more than your books. ( this at most consisted on four Math, English, Science, Geography/GP). It was the same in the storm season. Once lightening and rain appeared on the foothills of Metu, you had approximately 10 or 15  minutes to make it home.
At my home, which was a hill and a valley from the school, one could hear the bell. It was not like the big, cast iron bell at the Catholic Church. It was more like a cast away rusted wheel of a large vehicle that had to be struck quite violently to inspire fear in the seven classes that formed the entire school back then.
There were other times as we grew older that we walked all the way to Laropi past Metu. But by then celebrating Christmas or Natali had been replaced on our radars of exciting things to do with raves like those secondary school dances at Moyo Senior Secondary School. They  upstaged the soundtrack of hymns and recitals, the stories of Mary and Joseph with exaggerated stories of romantic conquests told my boys that had more pubic hair.
Christmas along Onama road in Moyo Town at the close of the 80's was quite a buzz. Sure tea with milk (oddly called African tea these days) would reappear several times in the year. But on Christmas day it performed a special function. Everything did. Everything smelt good.
Clothes were acquired months before and labeled "Christmas clothes". They were kept seperate from what you were allowed to wear on Sunday mass because mass on Christmas was different. They were also for those who could afford it different shorts or shirts from what you wore on Christmas Eve mass.
The night before Christmas was like a great bridge. Behind it many preparations that were going on quietly for weeks went from a trickle to a flood. There appeared on an almost permanent basis somewhere in the compound the charcoal iron.
For busy homesteads one had to RSVP to use the iron because it was in so much demand. That is because clothes were ironed, stored away, and as Christmas drew nearer ironed once again. In those days there tended to be broadly two tribes of clothes both of which required particular skill at handling the charcoal iron: 100 percent cotton and 100 percent polyester.
The latter was particularly problematic. The MTC school shirts were a purple polyester. ( I spied one in the photo above by my friend the incredible Edward Echwalu). Am not sure how polyester became so fashionable or fashioned more than other tailored clothes. This was before the day when buying second-hand clothes with global brands was not the default.
The polyester revolution had something to do with many Ma'adi returning from Sudan. But by the end of the 80's so many shops were "importing" colorful polyester and a few tailors would throw up designs that turned Sunday mass into a hibiscus garden where shiny pinks, reds, and greens clashed with liberally applied "pure Vaseline" that shone on legs and faces like sweat at political rallies these days.
To really get the going on a polyester piece of fashionable clothing one had to first memorize the folds because as the iron became hot, there was little time for revision and with Christmas hours away no time to regret.
Polyester is very flammable and feels like wearing steam on normal sunny days. But it was cool. Some folks painted their children with Vaseline like burn victims, dressed them in their new polyester and planted plastic shoes (popular then) on them and off they went to mass. A good thing that Christmas Mass was about the birth of a man whose life's work was to keep young souls like this from hell; otherwise it would be truly ironic to be walking with so much combustible wear as to deserve a flammable warning.
Comments
comments