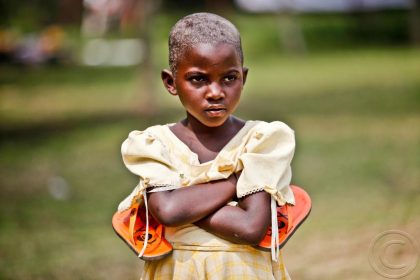 Reading Time:
3
minutes
Continued testimony from Uganda's Human Rights Commission Report – 1962-1986 led by late Justice Arthur Oder.
Sula Kiwanuka. Witness
We was transferred from Nile Mansions to Argentina House and thrown completely naked into a room. That was evening and mind you we had not eaten that Saturday, Sunday at Nile Mansions; that was Monday again no food for a third day.
At about seven this old man who was in charge of the place came to address the newcomers. He said, ' Here, you are brought here you can count yourselves as dead.' This man in charge used to come and open the door, simply look around, I don't know what criteria he used, he would pick you and say, and "You come here". If you hear that you have been picked that is the end of you.
This man, the guard, he had all sorts of equipments. He had two hammers, one of five kilos, another one was two and a half. He had a panga, which was sharpened on both sides. He showed us these. He had two iron bars. He had a big gun and a pistol, he had a bayonet, he had all things.
This man, we were told inside, had beaten Nsubuga [who together with his sister Mrs. Cissy Kagodo we found inside in really bad shape]. The man had beaten all his ankles, Nsubuga could not stand up at all because they used to call it removing the fuse, I do not know what fuse.
They had beaten all his ankles [and] here in the knees; I understand there is some liquid inside the knee- this one had gone out. Also that other gentleman [one of the three we found here with Mrs Kagodo and Nsubuga] actually had a very big wound on his head. You could see maggots coming out of their bodies. Stinking, but again we were also thrown to stay with these people; stinking, they were actually rotten.
Actually with that guard, only talking to your friend could mean your life because there was a gentleman called Austin who was beaten to death. This young man all the time was pleading with these people right from Nile Mansions that he had gone to where he had been arrested from to pick school fees to go to Makerere University to do medicine.
Sometimes to make it worse, they had even blocked the ventilators. The door was locked, the windows sealed, the ventilators sealed also, so there was no hope of any fresh air inside this place. Some of our friends used to suffocate. I remember there was a boy called Mwimbazi. This boy died of suffocation. We saved one old man by pushing his nose in the small space between the door and the floor. As for water, if you had a tin in which there had been some food, we had to make sure that you keep the tin in which you had to keep your urine, and this urine was very useful because at night with that suffocation people used to drink their own urine because it was the only water you could get.
Actually people fought, used to box each other inside if you stepped on his urine tin and poured it.  There was an interesting thing also. The man does not open the door, he knows that he has locked say 47people; the man knocks the door and asks how many are you?
If we answered the same number he locked, the man quarrelled. He used to quarrel, "Tumbavu" [Stupid]. If we answered that we have got two dead bodies, you could hear them jumping up and down. One man who had lots of maggots in his body, he had been crushed badly. These people instead of trying to take him to hospital [one] man said he would ask his friend when he came if it was not better to kill this man because he is in too much pain. He was pulled out in that sitting room and shot dead because he was in too much pain. Can you imagine these people?
From Nile Mansions to Argentina, Argentina to Mbuya, Mbuya to Luzira. When we reached Luzira we started congratulating ourselves. We said we were lucky because some people did not reach Luzira. Actually one bit of information is that by the time we were in Mbuya, some soldiers who had seen us in Argentina and saw us in Mbuya jail said you, you are very lucky, your friends are already finished"
Comments
comments