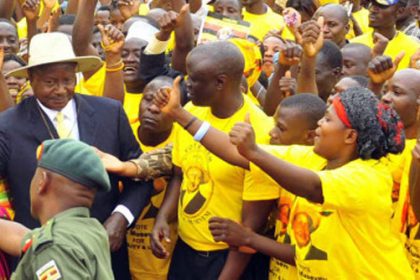 Reading Time:
2
minutes
This has been an interesting week. It kinda topped today with a short presentation i gave to a dialogue of all political parties organised by a Netherlands charity so the competing groups can review the last election. This is the second time i am attending the dialogue. The first one was before the 2011 election and was opened by President Yoweri Museveni. That time i moderated a debate between the parties where Amama Mbabazi sat in as Sec General. This time around representation of the big cat in the ring ( read NRM) was sparse. Daudi Migereko and Dorothy Hyuha ( she consistently dressed in a neat yellow suit).
When politicians meet like this it is usually a nice chatty atmosphere. During tea break they talk like team mates in a debate competition. The actual proceedings are rather dull ( its usually a long rant about the domination of NRM). The floor displays of word play are really entertaining. David Pulkol yesterday basically swept the floor with comical phrases. " First they tell you "Vote the man in a hat". Next they will say vote the man with a stick" he said tongue in cheek about Yoweri Museveni's ( his long time former boss) age.
To boot Pulkol now with UPC dressed in red ( red tie and shirt). Today it was a stripped red shirt and he looked like a dance maestro from the break dance era. His message yesterday was packaged as the 4′ C's. Change. Crime. Corruption and Constitutionalism. He really was the Whodunit of barbs.
" Uganda is a walkless democracy" he said about Walk to Work. Its a country that has not gone to the dogs but where the dogs have come to the country.
The JEEMA boss alleged ( and repeated the allegation) that NRM had mobilised a band of witch doctors and traditional healers as a sort of terror squad in the last election. No kidding. Another MP rose today to say his party was starved of media attention ( there is a general belief across all parties that the Daily Monitor was Besigye's paper).
" If there is any political party that has suffered media malnutrition it is DP and UPC. NRM has enjoyed media oxygen". Hehehe.
Above all i left feeling politics and politicians are probably not the solution but the problem. I told them that dialogues like this should be an opportunity for across the party lines honest talk about Uganda's current challenges which include an economic crisis and a coming political crisis in which a sensitive transition within NRM and the country needs to be carefully midwifed.
Sadly the big picture issues were few and far between and i fear politics is rather far from governing challenges even for those who aspire to lead. As i said the dialogue needed to consider that Uganda was a young country and even younger nation i wondered how this will all end.
Politics is very expensive here. In some ways the large public sector is a graft that holds the country together under NRM. If that sector collapses as it becomes too expensive – how will unity be maintained.
There could be democratic reversals. But meanwhile witchdoctors in yellow are vogue
Comments
comments