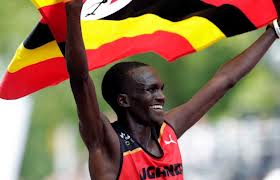 Reading Time:
2
minutes
After a drought of some 40 years, Stephen Kiprotich, has picked up an Olympic gold medal for Uganda. It is such a symbolic event not just because it happened at a prestigious event (the men's marathon where the Ugandan was an underdog) but because the first gold was in the first 10 years of Uganda's independence. The country celebrates the independence jubilee this year. A hero's welcome will meet Mr. Kiprotich. I spoke to his boss, the Commissioner General of Uganda Prisons earlier to pass my congratulations. He said the runner had been recruited to the Uganda Prisons Service in 2008 has part of a quota reserved for sportsmen and women. " My office is full of trophies of Prisons teams" said Johnson Byabashaija. He sounded very proud and happy and aware of the weight of Kiprotich's achievement in symbolic terms. A high level administrative meeting will tomorrow decide how the Prisons will honor Kiprotich. Very likely a new rank is in the works along with other accolades he will likely get from the authorities on high.
The last gold winner the late John Akibua was also a serviceman, a policeman. His daughter Denise Akibua is now a resident of London and this year was part of a documentary about the senior Akibua's efforts 40 years ago.  It must be quite an occasion to be Akibua's family at the London Olympics and witness an occasion such as this one.
"My father can finally rest in peace.Uganda has a new hero to focus on and to appreciate better, hopefully we shall appreciate his sacrifices and share his glory!" she wrote on her FaceBook page.
Ugandans will own Kiprotich not because national heroes are rare (martial heroes are generally preferred really) but because unlike political figures and others in better-known fields, the effort of sportsmen accessible.
As Kiprotich overtook the Kenyan duo that had been leading, I was standing up excited surrounded by hotel staff at the Kampala Serena where everyone was a bundle of nerves. The path to success of a sportsman you see is physical effort the most basic of human qualities. Unlike the many Wabenzi success stories that crowd Uganda's newspapers with tales of overnight riches, a sportsman's success is not venal but rather more pure speaking for itself in the sweat on brows and dedication at training. Perhaps it's a great thing that a Ugandan from the police and prisons service are Olympic gold winners.
Most Ugandans in prison are young men and women. Over 70% are remand prisoners and lately a profile of Ugandan crime shows that about the same figure are "economic crimes". In other words a world of harsh competition, a lack of jobs and a constant soundtrack of unpredictability created by corruption, nepotism and the evils of Gotham City despondency stalk their hopes like hyenas. A hero as ordinary as Kiprotich is what the country's most hopeless needed. And that's what they got.
Comments
comments