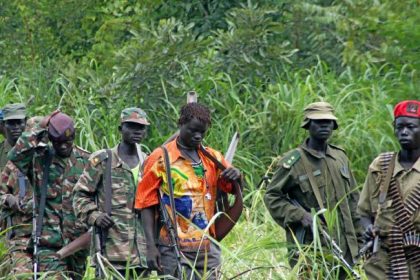 Reading Time:
2
minutes
The Ugandan army says it has recovered weapons taken by the Lord's Resistance Army from Guatemalan commandos in January 2006. Eight Guatemalans, part of a special force sent to kill rebel leader Joseph Kony, were all killed in one of the more embarrassing failures of the United Nations Peace Keeping Force in Congo to restrain the LRA which has remained one of the most resilient rebel forces in Africa.
Army spokesman Maj. Felix Kulaigye said the weapons recovered include an Israeli made Galilee automatic rifle. The army also said it is yet to confirm the identities of 4 rebel commanders it said had died in clashes with a combined force of Congolese and UPDF.
Its unclear how many Ugandan troops, which officially "withdrew" from the Congo at the close of Operation Lightning Thunder early this year, are taking part in counter-insurgency the operations.
The operation launched in December of 2008 failed to kill LRA's top leadership has planned and sparked a series of LRA attacks which have continued inside DRC to date.
Nine people were killed in Orientale province last week where rebel attacks are concentrated. It's reported that the rebels launched 24 attacks in the province in May alone. Attacks by the LRA by territory also show an effective force despite continuing operations against them by national armies. They have been reported in Sudan and at border with Central Africa.
Aid groups are calling for more action and a bill in the US congress hopes to mandate the Obama administration to militarily finish the rebels.
"We believe among [the dead commanders] them is Caesar Acelam" Kulaigye said.
Lt.Col Acelam is one of LRA's senior commanders, who in 2005 was reportedly responsible for the movement of the rebel units inside Uganda to the DRC, has been on the army's high value list for some time.
Last week the Chief of Defence Forces Gen Aronda Nyakairima and military intelligence chief Brig James Mugira were in Congo for a review of the operations against the rebels whose staging grounds are a striking distance of Uganda's north west border and its oil exploration areas near Lake Albert.
Last week the army said it had nipped in the bud an alleged rebel recruitment drive inside Uganda by arresting 11 people and reportedly recovering weapons, communication equipment. It also claims diaspora Ugandans continue to support the LRA whose lifespan has been as long as that of the ruling National Resistance Movement.
Comments
comments