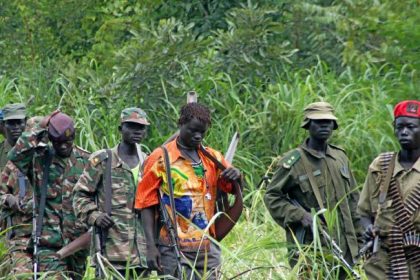 Reading Time:
2
minutes
A new law has been proposed in the United States to compel administration of President Barack Obama to dismantle the threat of the Lord's Resistance Army with whatever means necessary and fund the reconstruction of northern Uganda.The "Lords Resistance Disarmament and Northern Uganda Recovery Act" sponsored by Senators Russell Feingold and Sam Brownback is a radical step forward to increasing American involvement in the fate of the LRA. In a statement for the Congressional record accompanying the Bill Mr. Feingold said the US needed a "proactive strategy to help end the threat posed by the LRA and support reconstruction, justice and reconciliation in northern Uganda". A copy of the proposed law and the congressional statement obtained by Daily Monitor show that lawmakers are partial to the use of US military force to finish off the rebels and support a regional strategy to get the job done.
However the use of military force is not supported by politicians from the north who favor a peaceful manner to end the conflict. Hon Livingstone Okello Okello [Kitgum UPC] said any use of force risked harming the young soldiers in Kony's army who are involuntary abductees. He also said the second part of bill which seeks to put US$ 10 million in LRA affected areas should not be channeled through the government as the current recovery plans say. "It's a double crime to follow these abducted children and kill them when they did not decide to fight" Okello said, adding many parents including some in his constituency are hopeful that their children would return alive. "The American government should not pursue this violence but spend its efforts at procuring a final signature" Okello said. The bill leaves it up to the Obama administration, Feingold said, to determine the most "effective strategy" however many US based groups who the senator says have given the issue visibility would like for a successful military campaign to deal with rebels.
"The congressional effort is welcome and should formalize the aid that we have been receiving from the US government especially in terms of training" said Major Felix Kulaigye, the Defense and Army Spokesman. If passed into the law it requires the Obama administration to develop and submit to lawmakers a "regional strategy" to disarming the LRA and protecting civilians. The LRA bill comes on the back of criticism of limitations of Operation Lightning Thunder launched in December 2008 but which failed to decapitate the LRA leadership and ground its operations as was planned. The US, which it has emerged, was involved in the planning of the operation and offered material and intelligence assistance has taken part of the blame for the failure.
Comments
comments