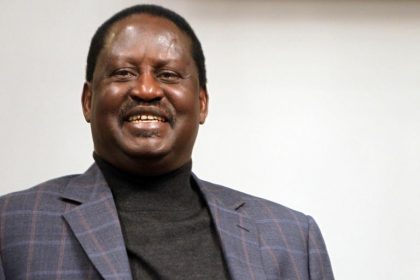 Reading Time:
4
minutes
Kenyan political strongman Raila Odinga who is prime minister and defacto co-president has described the Migingo saga as a "storm in a tea cup" during a brief interview with Daily Monitor's sister company, 933 KFM on Thursday evening.The interview which was meant to feature Uganda's foreign minister Sam Kutesa was cut short when Raila who was chairing meeting in parliament had to go to a consultation with President Emilio Mwai Kibaki- who is the other half of Kenya's Government of National Unity[ GNU].
Since controversial comments made by President Yoweri Museveni while addressing students at his former University in Dare salaam, later rebroadcast by the BBC, much to the chagrin of Kenyan opposition politicians kicked up a storm, Ugandan leaders including Museveni have been fire-fighting. Political strategists in NRM say Kenya has been poorly handled and Raila Odinga in particular and worry about the consequences of the under servicing of relations with Kenya's competitors for political power who led by Odinga look like a government in waiting. "National Resistance Movement is modeled along the lines of the Communist Party of China. Our relations are with governments that's why we have ties with Chama Cha Mapinduzi in Tanzania" spokesman Ofwono Opondo said yesterday.
He said NRM has "no direct relationship" with Odinga's Orange Democratic Movement [ODM] because as a policy Uganda had to deal with the government in power and not the opposition. And that is because Odinga is generally perceived to be working towards leading Kenya eventually in competition with the Kibaki faction in the government. "This caused us similar problems with South Africa when relations remained warm between Museveni and Nelson Mandela as Rwanda's Paul Kagame and others cultivated Thabo Mbeki. Later when Mbeki became president it was difficult to turnaround things" Opondo added. Opondo said it was problematic having simultaneous relations with official holders of power and those who want to or are expected to take over from them. The NRM spokesman however called Odinga a "populist" who did not think beyond his political ambition and faulted ODM for being irresponsible considering Uganda's landlockedness whenever angry citizens in Kenya disrupt trade by cutting off transport routes. There is however a political history to this. Odinga, a former Presidential candidate who many believe won the disputed Kenyan election in December 2007 only to have his victory snatched from him by a conspiracy of factors. Since Migingo became a political hot potato the Kenyan Prime Minister, previously a regular visitor to Kampala, who calls some influential businessmen like NRM insider Elly Karuhanga his personal friends, has thrice cancelled a planned trip to Kampala. Those closest to him in Uganda say he is still upset that the political establishment in Kampala supported his rival and not him. "We are suffering a residual backlash because of this" noted Opondo.
So while Odinga maintains Migingo is Kenyan and that the dispute will be resolved through "negotiations" violence against Ugandan interests including the uprooting of railway sleeves have happened in the vast Kibera slum in Nairobi which is in his Langata Constituency. During a parliamentary debate on Migingo on Wednesday where harsh language was used by his political allies to move a motion to declare Uganda a "hostile state" opposition MP's also lashed out at Raila's principal opponent Emilio Mwai Kibaki the president. "While Uganda raises its flag on Kenyan soil, the leadership of this country is wining and dining in State House talking about diplomacy" said MP Bonny Khalwale [New Ford Kenya]. In a press conference initially called just for Kenyan media on Friday Museveni demanded for an apology from Kenyan politicians who had in the last few months tongue lashed him over the Migingo issue.
The view that Kibaki and President Yoweri Museveni are friends dates back to the aftermath of the Kenyan elections when the Ugandan President had to defend himself from accusations that he was partial to Kibaki, a former lecturer at Makerere University. This whipped up such strong anti-Uganda sentiment especially when Raila and others even accused Ugandan troops of participating in the violence that ensued as the two political camps locked horns. Consequently Ugandan trucks were attacked and the railway lines cut off by youth in Kibera. Then it is now with Migingo the projection of Uganda as an armed aggressor stirred nationalist sentiments that, according to Capt Mike Mukula who has been in touch with Raila throughout the Migingo saga, have been useful mobilisation opportunities for ODM politicians keen on showing off Kibaki as a weak leader. He explains that ODM is a strong contender in Kenyan politics and Uganda had not done enough to maintain amiable relations.
"While ODM is an opposition party, Kibaki is on his way out and Raila still has political mileage. It's plausible that in the future he could become Kenyan leader and we need to deal with him" Mukula adds. According to him while Odinga is still in the official opposition today, it is his political future Uganda could look to. " As a political player in Kenya tomorrow, ODM is significant to East African integration since of all the partners Kenya with its large economy and access to the sea, is the most important to Uganda" he explains.
The political and economic federation has been one of Museveni's favourite projects and one of the few areas where he has a chance to carve a legacy on the regional political scene. Mukula and others say an ODM government is potentially dangerous if it remains hostile and emerges as a government in power especially to the EAC already facing a lukewarm future in Tanzania. At the beginning of May Odinga hosted South Sudan leader Salva Kirr Maryadit to a dinner in Kisumu in which he said the Kenyan government had plans to build rail and road transit routes to the southern capital of Juba. The routes would bypass Uganda and link Kenya directly to the lucrative South Sudan market in direct competition with Uganda which has similar plans. "Uganda should have protested vehemently because this goes against the spirit of East African unity" Mukula said. One more reason not to piss off Raila Odinga.
Comments
comments