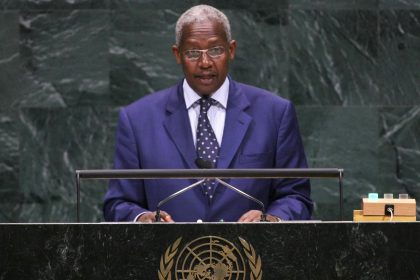 Reading Time:
6
minutes
Foreign Minister Hon Sam Kutesa [NRM, Sembabule] on 22nd July chaireda United Nations Security Council debate on the theme " Post-conflict peace building". Uganda, a non-permanent member representing African countries, ends a one-month period as chair of world's most powerful body. Here is a text of that interview in which he discusses the Security Council, peace-keeping and Somalia's Al Shabaab. peace-keeping troops. The interview was done at the Mayflower Hotel in Washington DC. It was submitted to the Sunday Monitor
Sunday Monitor [SM]: Following up on that theme since we come from the Great Lakes region which successful model on post-conflict peace building would you point to and say this could work?
Sam Kutesa [SK]: Without doubt Burundi. Burundi succeeded because the initiative was led by the region and the international community supplemented the regional effort. Earlier on there were attempts to broker a peace process in Burundi and the Carter Center had been approached and they tried but by the time President Carter got to know the names of Burundi [like] Ntugagaganyure, Nkurunzinza, it became a mess so the region took the initiative. Initially chaired by President [Julius] Nyerere and then President Nelson Mandela and after that President [Yoweri Museveni] with South Africa as the facilitator and the UN backing them. Now you can see the conflict in Burundi has ended, all the parties are part of government. They have also had elections and are preparing for another set of elections. So we think that model has worked.
So in this discussion [on post conflict peace building] we are saying regional initiatives should be leading supplemented by the United Nations and the international community. The other outcome is that when you are involved in peace making do not consider it as one phase. You should look at peace-making, peace-building simultanasly because if you concentrate on peace-making and you do not look at peace building which involves resettlement and development, normally the experience has shown that after conflict there is a window of about 24 months with people having expectations, settling down and giving peace a chance, but with no plans for peace-building as you had in peace-making then you have no program to immediately kick off resettlement and development and then there is a tendency for countries to relapse into conflict. Like now, we are working in Somalia we must take into the need for peace building. In other words, suppose the conflict ended today, what program do you have to kick off immediately so that people are not disillusioned and can see the dividends of peace and lessen the chances of the country relapsing into conflict.
SM: Uganda has featured prominently in debate of peace versus justice and which comes first or can they be had simultaneously. What is your personal take on this?
SK: My view is that you must never condone impunity but at the same time you must balance the desire to punish the guilty with the need to establish durable peace and they do not come easy. It a delicate balance.
SM: Is this the situation Uganda finds itself in with regard to President Omar el Bashir?
SK: Forget about Bashir lets first talk about Joseph Kony because we want him prosecuted but at the same as you may have seen in our negotiations in Juba, we were willing to establish internal mechanisms of dealing with impunity without compromising durable stability and security. And indeed the Rome Statute of the International Criminal Court provides for exhausting local remedies first. In the case of Bashir, we as Uganda completely support the ICC position that anybody who commits violations of human rights or engages in genocide aught to be tried but we are also members of the African Union which passed a resolution as soon as the indictments were made that we as African Union should investigate on our own the veracity of these charges and then take a position. Former South African President Thabo Mbeki who is heading that investigation is doing so and has been to Sudan and other countries and will be reporting to the AU.
So we are committed to the ICC and committed to the AU resolution. As soon as the AU makes its decision then we will comply, as we must with our ICC obligations.
There is no confusion. I am sure about one thing that President Bashir is not going to come to Uganda so that should not worry you.
SM: In the case of Somalia you spoke of the continuum between peace keeping and peace-building. What happens in a situation where there is no-peace to keep?
SK: We considered this aspect. The primary responsibility of the Security Council is to maintain world peace and security. That's the objective of the Security Council and its only role. So if there is no peace it is still the obligation of the Security Council to establish that peace. You have seen it happen in Kosovo and Serbia. Working with the region you have seen it happen in Burundi, Liberia and Sierra Leone. So you participate with regional initiatives to establish the peace, then to keep it and then to build it.
SM: Can that be applied to the current situation because there is a fully-fledged civil war going on?
SK: What we are doing in Somalia where Uganda is as part of the African Union Peace Keeping force [AMISOM] is a twin mandate. One is to protect the Transitional Federal Government and its institutions, secondly is for us to train Somalis to takeover the security of their country. In other words as AMISOM train an army and a police force.
Its true that there is a fully-fledged civil war but it is the Somalis to end that. What we are trying to do on behalf of the Security Council and the AU is to create capacity in Somalia for the Somalis to takeover their own security. In 1979 the Tanzanians came and got rid of Idi Amin. But the Tanzanians could not have hoped to stay there forever neither would Ugandans accept them. I think the same thing would happen in Somalia. Ugandans are not supposed to be there forever. It would be the Somalis who would want to kick us out faster than anyone else. But what did the Tanzania do? It created the capacity of the UNLA and withdrew. Then you can have your own internal conflicts of NRA and so forth. But those internal conflicts are resolved by Ugandans themselves. So that's what we are attempting to do in Somalia; to create the peace by using Somalis and therefore supporting the TFG
SM: How far is Uganda willing to go to supporting the TFG? Ugandan peacekeepers are being killed in Mogadishu. If you are saying Somalis should resolve this themselves at what point to you [leave it to them]
SK: Am not saying they should resolve it themselves but we should help them to create the capacity to do so and we shall stay for as long as it takes to create that capacity.
SM: Do you think as AMISOM you have the capacity to prevent the TFG from collapsing? In the greater scheme of things you are really protecting a government that has already fallen [being that you have control over small areas like the Presidential palace]
SK: We are not protecting a government that has already fallen. We are protecting a government that came in from Nairobi. It only came to that part. It has never occupied the rest of Somalia and it hasn't been kicked out. We are protecting it where it was stationed and we hope it will expand because the Al Shabaab have no capacity to overrun us. No capacity at all but its our rules of engagement we are not involved in pushing them away. That should be done by Somalis who are trained by us and others under AMISOM. If it was a case of pushing them away that would not have been a problem. But that's not allowed under our rules of engagement.
SM: But would you consider pushing them back considering the present situation?
SK: If the rules of engagement were changed we could but we are also loathe to become to o deeply involved in local matters. We would consider it carefully.
SM: Its been reported that Uganda is supplying weapons to the TFG? Will AMISOM not been seen as the enemy by the other belligerents?
SK: We are not supplying as Uganda. There is a partial lifting of the embargo [against arms supplies with regard to TFG] and the United States and other countries who support the TFG are supplying them with arms. Its true that when the arms come we receive them and hand them out but we are not the source.
SM: Still won't the anti-TFG fighters view AMISOM as the enemy?
SK: I would imagine so because we are not just supplying weapons we have personnel there. Obviously you are already a legitimate target they already think you are there to stop them from their overall objective of taking power. We are neutral in this one sense that we as Uganda have no national interests in Somalia. They have accused the Ethiopians and Kenyans with whom they share a border of having such an interest. But as Uganda there is no other earthly reason we are in Somalia other than to ensure that another African country does not become a failed state.
Comments
comments