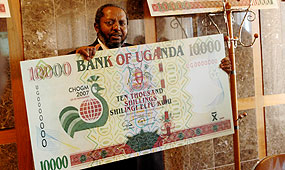 Reading Time:
1
minute
Its difficult to say immediately what long term impact if any the Central Bank governor's comments will have. In Uganda's sensitive market , whose confidence has been shaken by inflation figures and political risk concerns following the riots of the last few months, Mutebile's comments, discussed earlier, are hitting a mark. A Reuters story here suggests so. The head of marketing tracking at Barclays quoted in it adds that " huge dollar demand in the interbank market and by the oil sector and with sagging supplies [has placed] the shilling is under enormous pressure".
Looking ahead however full recovery, in my view, is unlikely to return until probably the 1st quarter of 2012. Other factors however seem on the upswing, food prices are stabilising and global oil prices too will be less worrying. However continuing political unrest, lack of confidence in public institutions, will continue to trouble the Ugandan economy.
In a low key event today Opposition leader Kiiza Besigye and his supporters clashed once again with the security forces. If support for these protests persists it will lend more un-certainty and stretch the recovery period for the shilling. One additional caveat is that Ugandan politics can surprise and beyond the opposition confidence-undermining events are possible but since we are not clairvoyant we can not say what they are.
For example ex-Vice President Gilbert Bukenya's impending trial on corruption continues to generate interest. See an interesting post here by Chris Obore- the head of investigations at the Daily Monitor. It suggests that the VP ( a tactic he has succeeded with several times in the past) may drag other members of Cabinet into the fray or hope that the system saves him.
Comments
comments