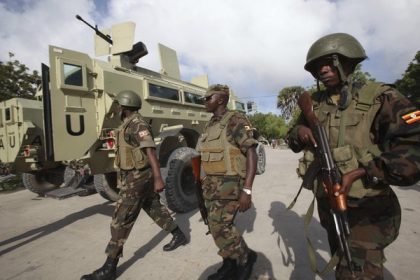 Reading Time:
2
minutes
Uganda warned Saturday it may withdraw its troops from peacekeeping duties in Somalia as Islamist forces appeared to begin seizing territory left unguarded by departing Ethiopian forces. "Uganda is going to consider withdrawing its troops from Somalia and it will do so as soon as possible after weighing the risks on the ground," Deputy Foreign Minister Henry Okello Oryem told Deutsche Presse-Agentur dpa.
Ethiopian forces invaded Somalia in late 2006 to help kick out hardline regime the Islamic Courts Union (ICU).
After two years of battling a bloody insurgency and watching the government it backed fall apart, Ethiopia is now cutting its losses.
Trucks loaded with Ethiopian soldiers and their belongings began filing out of the capital Mogadishu on Friday.
Only ramshackle government forces and an undermanned African Union force of around 3,000 troops from Uganda and Burundi will stand between insurgent groups and complete control of Somalia once Ethiopia leaves.
Analysts fear that the Ethiopian departure could worsen the conflict.
The insurgents are far from united and some are warning the insurgent groups could splinter and begin fighting, sending Somalia spiralling further into chaos.
This seems to be taking place already, with a relatively new Islamist group, Ahlu Sunna Waljamaca, clashing with the strongest group, al-Shabaab, in recent days. Dozens have died in the fighting.
The ICU on Saturday also took over three police stations in Mogadishu as the Ethiopians pulled out, further complicating the situation, reports said.
Al-Shabaab grew out of the ICU, but relations between the two insurgent groups have reportedly worsened this year.
There is, nonetheless, some optimism that the resignation of President Abdullahi Yusuf Ahmed on Monday and the departure of the Ethiopians could give fresh impetus to an ongoing UN-backed peace process and help create a government of national unity.
The fear for many western governments is that al-Shabaab will remain triumphant from any power struggle and seize complete control of Somalia.
Al-Shabaab already controls much of the country, and has been implementing strict Islamic law as it takes over towns.
The US says that al-Shabaab has close links to al-Qaeda. However, little hard evidence has emerged to prove this.
The AU is desperately trying to scrape up more troops to keep al-Shabaab at bay, but Nigeria, South Africa and Ghana have already failed to meet their pledges to the peacekeeping mission.
"We have been waiting for other countries like Nigeria and Ghana to send troops but they have not done so," said Oryem. "Our army experts are on the ground to establish the risk of our troops staying there and we shall withdraw once the risks are too high."
Uganda has demanded a UN peacekeeping force of 8,000 troops, but UN Secretary General Ban Ki-moon has rejected the calls, saying there is "no peace to keep."
Somalia has been embroiled in chaos ever since the 1991 ouster of dictator Mohamed Siad Barre.
The crisis deepened after the Ethiopian invasion sparked a bloody insurgency that has killed over 10,000 civilians and displaced around 1 million.
Source: DPA
Comments
comments