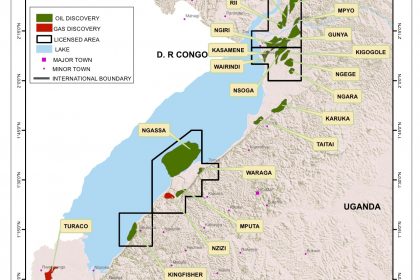 Reading Time:
1
minute
Details of the Memorandum of Understanding [MoU] between the Uganda government and international oil companies to begin production will be revealed later today. A signing ceremony took place at State House Entebbe last evening [February]. Both government officials and the industry had signaled that signing would take place on Wednesday after 'major issues' had been agreed to. Various sources had suggested that the agreement was only pending a signature by Tuesday night. Discoveries-June 2013Amongst others the MoU is will set out modalities for production of oil such as how much oil will eventually go to a Ugandan refinery. Last year the government awarded the Chinese company CNOOC a production license but officials also indicated that approvals of Field Development Plans for the other two companies are in advanced stages of approval.
The MoU should indicate the agreement between government and the oil companies on the status of refining in Uganda, taxes and arbitration of disputes, the last being a sore issue following disagreements over gains tax. A senior official told me this week however that the government and its partners had agreed to "90%" of the issues.
The rest we shall learn this morning when both sides make the formal announcement at a press conference scheduled for 10am.
Comments
comments