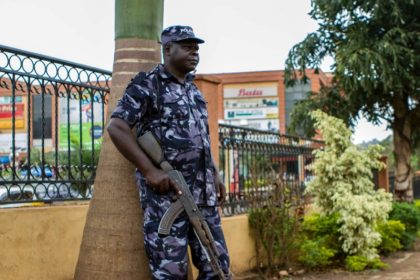 Reading Time:
3
minutes
Uganda began a two-year term on the United Nations Security Council last week, with its ambassador saying the country will use the opportunity to focus closer international attention on African conflicts. Uganda's will be the most prominent voice of Africa as the UN's most powerful body grapples in the coming months with several East African issues, including chaos in Somalia, war in Sudan's Darfur region and worsening violence on Uganda's own doorstep in the eastern Democratic Republic of Congo.
Some analysts speculate that Uganda may press the Security Council to allow UN forces stationed in the DRC and Sudan to join the hunt for Lord's Resistance Army fighters.
The group led by Joseph Kony is accused of having massacred hundreds of Congolese civilians in the closing days of 2008.
In a recent interview on UN Radio, Ugandan ambassador Francis Butagira suggested that the country will press the Security Council to approve international intervention in Somalia while maintaining a hands-off posture in regard to other African hot spots such as Zimbabwe.
Mr Butagira said the Council should refrain from "efforts to have regime change in some countries." In what could be interpreted as a reference to the US invasion of Iraq, the Ugandan envoy said that "unilateralism or flexing of muscles has been shown not to work."
He made clear that Uganda would not favour moves by powers outside Africa to topple Zimbabwe President Robert Mugabe.
Noting that Uganda supports the African Union position on Zimbabwe, Mr Butagira said the crisis there is "best dealt with by the sub-region" through the Southern African Development Community.
The issue of Zimbabwe does not have an international security dimension and thus "does not warrant intervention by the Security Council," Mr Butagira said.
The ambassador also cited the African Union stance when asked about the International Criminal Court's pending charges of genocide against Sudanese President Omar al-Bashir.
The AU urged the Security Council in July to use its power to suspend the indictment against President al-Bashir on the grounds that international criminal proceedings against him would only further destabilise the Darfur region.
But even as he implied Uganda's willingness to press the Council for such a deferral, Mr Butagira cautioned that efforts to shield President al-Bashir from prosecution should not be viewed as "a blanket endorsement" of Sudan's policies. The Ugandan ambassador noted that the AU has called for improvements in Sudan's human-rights record.
"Sudan will be wise to do that," Mr Butagira said. He added that Africa is concerned with "balancing the issue of justice and reconciliation" in Sudan.
On Somalia, the Security Council has a responsibility to authorise UN intervention, Mr Butagira said.
Other Council members, including the United States, have likewise argued for dispatch of a UN force to Somalia, but such an initiative appears unlikely to be launched until warring Somali factions act to resolve their differences.
In his UN Radio interview, Mr Butagira emphasised, "It is incumbent on African countries themselves to see what they can do to help Somalia." Uganda's own approach has been based, he said, on a decision "to help our brothers" in Somalia. He urged other African countries to join Uganda and Burundi in supplying troops for the African Union mission already deployed in Somalia.
Mr Butagira set his goals high when asked what he hoped the Council might achieve by the time Uganda's term expires at the end of 2010.
He expressed hope that conflicts in Africa will have been resolved by then and that the continent will be focused squarely on its development needs.
Starting on New Year's Day, Uganda took over a Security Council seat previously occupied by South Africa.
Uganda won 181 votes from the UN General Assembly's 192 members in an election in October in which Austria, Japan, Mexico and Turkey were also awarded non-permanent spots on the council.
Five countries — Britain, China, France, Russia and the United States — hold permanent seats on the Security Council where they also wield veto power.
Burkina Faso, Costa Rica, Croatia, Libya and Vietnam will hold the other rotating seats on the 15-member council through the end of 2009.
Uganda has twice previously been chosen for a Security Council seat —in 1966 and 1981.
Some critics sought unsuccessfully to block the country's return to the globally prestigious position.
Writing in October for a popular online journal called The Huffington Post, US reporter Georgianne Nienaber noted that Uganda has been accused of wanton human-rights violations and resource plundering in the eastern DRC. Her posting was headlined: "Uganda does not deserve seat on UN Security Council; it's time to pay attention."
Ms Nienaber's commentary cited remarks by a leader of the US-based advocacy group Friends of the Congo who described Uganda as "certainly an agent of the US wreaking havoc on the African continent, particularly in Congo."
Source. The East African
Comments
comments