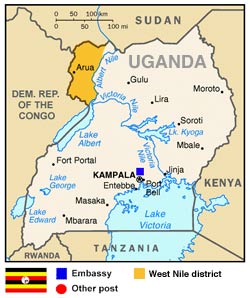 Reading Time:
3
minutes
The refinery project at Uganda's Ministry of Energy- has put out a request for proposals for a lead investor for its refinery project. Just weeks ago, project estimated at 2.2 billion dollars received a boost from what is now fairly usual quarters; China.
In a sense the award of a production license, the first to be issued in Uganda's Albertine Graben flagged off the move to producing oil after what many including investors complained had been a long and uncomfortable delay. Uganda first announced its commercial oil discovery in 2006.
This would later be followed by similar announcements by Kenya by the same exploration firms. A senior energy official not long ago told me he received a call from an executive of Tullow oil after Kenya's discovery saying that Kenya would be the first to produce oil. This may still be the case. Its understood Uganda's delays were occasioned by the insistence by the government on producing both crude and refined products.
The award of a production license to the Chinese sealed the prospect of refined products by part of the equation. In the past weeks too it emerged also that while the government had agreed to jointly extract crude while refining, a pipeline study, the first definitive one had been conducted by Toyota Tsusho.
As oil production concretizes against new project lines (government ambitiously sets the target at 2018; my own is somewhere around 2022), the current request for proposals must be seen against the situation created by the Chinese. I asked Robert Kasande, the refinery project manager why anyone should expect that despite an open bidding advised by Taylor-Dejongh [which has expensively hired Edelman, one of the most recognizable PR firms to spruce things up] the Chinese would not end up co-owning the refinery? His answer was that the process is open.
" We are spending a lot of money on this process," he said. I also put it to him that government political strategy itself was to "mix-up" the national representation of companies such as has been the case upstream with the farm-down that brought in the Chinese company CNOOC and the French giant Total E&P. Kasande said the circumstances were different.
Suffice to say that on the eve of the search for a lead investor close to 5 billion dollars in deals have been signed by Chinese state-owned companies. They include, besides the Kingfisher production license, a package for two dams ( Karuma and Isimba) and an industrial park. The electricity dam deals combined the dams and transmission lines. All of these under what appeared to be very concessionary terms seen by senior government officials leading the negotiations as the best they have had. One key decision maker in the energy and oil sector said "the west is broke so we have turned to China".
Details of the Karuma-Isimba deal perhaps show why China is Uganda's new best friend. Out of the 2.2 billion, fifty five percent is on a concessionary interest of 0.5 percent. Of the remaining 45% of the package, eighty percent is a soft loan at 2%. Only twenty percent of the reminder is a commercial loan at 4% to be paid over many years. One aspect of China's work method is that unlike previous public works that trickled in through governance rich processes backed by western embassies, think tanks, NGO's, the IMF-World Bank, IFC etc, they are negotiated politically and bilaterally.
This creates an opacity, which Chinese officials can exploit, and which has long been preferred by the corruption plagued Uganda government.
What goes beyond this is that sovereign wealth funds in the control of the Chinese government and accessible to government's like that of Uganda are in fact better money. They are flexible and long term. And cheaper. With Chinese money and Chinese companies- Beijing has an upper hand.
So it should not be surprising that Chinese firms come up top
Comments
comments