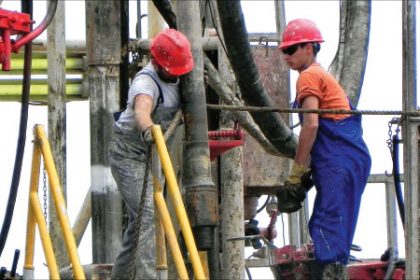 Reading Time:
4
minutes
IN SUMMARY
TRANSACTIONS: In the first half of 2010, Tullow progressed a series of transactions, which culminated in the purchase of Heritage Oil and Gas Ltd's ("Heritage") interests in EA-1 and EA-3A in July 26.
FARM-DOWN: The process to subsequently farm-down interests to CNOOC and Total, with each partner taking a one third interest in EA-1, 2 and 3A, was signed in March 29, 2011, following the signing of a MoU between Tullow and Uganda in March 15, 2011.
The future of Tullow Oil in Uganda hangs in the balance, as the Irish prospecting firm is reportedly frustrated by the lack of progress on arriving at "a final investment decision" about whether to build a pipeline or a refinery.
"Our programme for appraisals is complete and the development means we either pump crude oil or refine it, so there is currently not much work in the field," said Tullow's publicist Cathy Adengo.
Despite the company's overall spokesman George Cazenove stating in an e-mail response last week that: "Tullow is not planning to exit Uganda and has stated repeatedly that it is committed to Uganda for the long-term," several well-placed sources in the industry say the lack of movement on the issue is causing the company to internally consider its exit options.
This is informed by the protracted nature of the disagreement between the oil companies and the government on whether crude or refined products are the best way to commercialise oil production in Uganda.
(Read: Oil majors and govt dispute threatens production)
"Unlike the two other oil companies in Uganda — France's Total and China's CNOOC, both industry giants — Tullow does not have the financial resources to play out a prolonged waiting game," said analysts who spoke to The EastAfrican.
In its interim management statement released on November 14, Tullow says that, together with its partners, it has presented a "joint development plan" to President Yoweri Museveni. The plan was presented in July, almost four months ago. This plan emphasizes a crude-pipeline option while the government prefers a medium-sized refinery to begin with.
Consequently, no agreement has been reached. "We can't agree on anything," a senior executive with Tullow said on condition of anonymity.
Meanwhile, the industry is abuzz with word that the oil companies have put together a rebuttal of the official document the Uganda government is relying on in pursuing its refinery option — a 2010 report by the firm Foster-Wheeler.
"They are attacking the Foster-Wheeler report, which recommends a refinery and not a pipeline as the best option for Uganda," said legislator Stephen Birahwa Mukitale, who claims to have seen the oil companies' response.
"The president is under tremendous pressure to agree to a pipeline as the principal option," added Mr Mukitale, who represents the oil-rich Buliisa County.
Crude oil
However, technocrats at the ministry dismissed the oil companies' proposal that Uganda's oil be exported in crude form.
"What you describe about evacuation of crude oil is wishful thinking and the arrogance of those peddling it is immeasurable," said Ernest Rubondo head of the Petroleum Exploration and Production Department in an e-mail. There is no official word from State House.
In the process of placing phone calls to set up meetings with senior government officials, Tullow and its partners have confronted a political process that is less likely to produce a decision quicker than three years earlier. In 2009, the legislature, which is currently considering new laws governing oil production amid allegations of bribery, was less active in the sector.
A senior manager at Tullow then referred to Uganda as an ideal place to do business because "one man," — referring to President Museveni — "made the decisions."
(Read: Uganda to vet all foreign oil workers) However, since then, public interest has been heightened by allegations of corruption in the sector.
The Foster-Wheeler report, a copy of which The EastAfrican has seen, is based on market and demand surveys that lead it to conclude that: "Construction of a refinery appears attractive provided the refinery is matched to East Africa's demand."
The report also asserts that, "rather than a crude export pipeline, a refinery is technically, financially, and for the development of Uganda, a recommended option."
Since the report's release, the industry regulator has proceeded to commission several studies based on the report to give it effect.
These include identifying a refinery location in Kabaale, one of the seven locations picked in the report, and issuing a technical study for pipelines and facilities as well as initiating a land acquisition exercise.
In all, the refinery development process is moving forward, with a transaction advisor expected to be contracted by the year's end and a "lead investor" identified, according to Mr Rubondo.
"As the amount of oil established increases with new finds, the argument for the commercial viability of an even bigger refinery becomes stronger," said the head of a local oil consultancy with links to the government.
Interest from oil majors
So far, Uganda has 3.5 billion barrels of oil officially, but strong interest in a new licensing round from global oil majors suggests the government will wait till after the round to broaden its financing options for the planned refinery.
Tullow momentarily held majority licences while farming down — amid controversy — to Total and CNOOC. With the farm-down complete, however, Tullow, even if it is a pioneer company, is increasingly being assigned less weight in the corridors of power, and its desire to expedite production is being shrugged off as Uganda gambles on a refinery option.
There is informed speculation that the Chinese government, which is involved in several high-profile construction projects, is using its influence to position CNOOC in a possible joint venture with the government of Uganda.
(Read: Laws take a toll on oil, gas firms)
Submitted to the East African. In response to some of the attributed quotes Tullow publicist Cathy Adengo sent this
In reference to  your article published in the East Africa.. I wish to clarify that Tullow's work programme has not been completed as suggested in  the quote "Our programme for appraisals is complete and the development means we either pump crude oil or refine it, so there is currently not much work in the field," said Tullow's publicist Cathy Adengo.
Tullow  Exploration and Appraisal work programme will be on going into 2013 in Exploration Area 2 and there will be some activities going on in the field. Looking ahead, as we move from exploration to development, there will be a major focus on making preparations and planning for the future development. Substantial amount of work will commence that will help put into perspective what will be required to be put in place to support the  implementation of the development and successful  production of Uganda's oil and gas sector.
Comments
comments