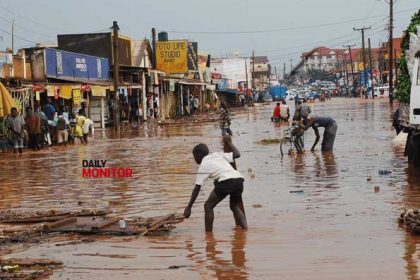 Reading Time:
3
minutes
Rain in Kampala is a beautiful thing depending on where you are sitted. If you are in Bwaise, one of the slums built out of an old swamp, it floods your house, tosses your cooking where into the street and cuts your children from their school. Pictures of makeshift boats or slum dwellers making an evening killing wading with "passengers" on their backs through dirty lakes often mingle with headlines of cholera when the rainy season graces us with its cleansing and soothing sounds higher up on the safer hills of the beautiful city. These occasional downpours are also the city's flush toilets being that only 8% of Kampala is connected to a sewer line.
For many homes including in Bwaise, the rains will burst pit latrines and force sewage into the Nakivubo channel towards Port Bell, once a hip hangout for traders and busy bodies, when it had a reputation as being a serious inland port. Nowadays Port Bell is a rusty, smelly place no thanks in part to the dying parts of Lake Victoria being polluted by the ever increasing refuse of Kampala's growing population.
As I write this however my balcony view is of red tiled houses and leafy compounds in a neighborhood just next to the Kabaka's Palace near Kyambogo University.
Its not the most planned place and residents here may complain occasionally of the mud roads and another Ugandan headache; electricity load shedding which has everything to do with the rain outside. Last week I attended at the invitation of Uganda's Electricity Regulatory Authority ERA, a cozy dialogue, at Kampala Serena of the sector's main managers. Uganda's rain has long been the mainstay of its electricity production. However while its needs grew production of electricity remained stunted and is the subject of major political bickering. In 2005 following a drought, it plummeted.
In response to severe load shedding, the government sought relief in diesel-powered generators. I opposed it then because I argued that new hydropower would not catch up to energy demand requiring an investment in cheaper oils (otherwise known as Heavy Fuel Oils) which had long been the answer to electricity in Uganda's major towns outside the capital city.
Today, with the rising price of oil, and "constrained hydrology" (a euphemism for the failure to generate sufficient hydropower at Owen Falls near the source of the Nile as well as from mini-dams around the country due to lesser rainfall over the years), the government has discovered it dug itself into a muddy ditch. Thermal generation costs, according to ERA, climbed from 155 billion in 2006 to 670 billion in 2011.
There is a shortfall today in the energy sector of some 400 million dollars (almost a trillion shillings at the current dollar rate because of the loss of value of the shilling in the past several months. These costs account for 85% of energy sector spending, believe it or not).
Facing the deer lights of a terrible economy the government, which has shielded consumers from the actual cost of electricity, is mulling an increase in tariffs hence the meeting.
To put it in context, one power producer of diesel generated power, Aggreko, received 60% of all spending on the sector but produced just 20% of the power we consumed. Every year the government put aside 92 billion shillings as a direct subsidy but the figures we were shown indicated subsidies have peaked at 500 billion today as thermal power provided half of the electricity the country consumes.
At the writing of this all eyes are on a new dam at Bujagali, which, is due to be commissioned in two months time. However because of the demand, sector specialists who spoke privately to me said the new Bujagali dam would cover demand for just one year at the best.
The problem is made worse because Uganda has fixed tariffs and treats electricity as a right like other social services. Industry folks want this to change.
My own take on what to do was to place the electricity sector within the current fluid situation of the economy. We will return to this issue (and other proposals from that meeting) but here is my two cents. Uganda has due to shut down the expensive diesel generation units but faces a crisis if new power is not online.
My suggestion was to place in the service of Uganda's electricity needs its newfound oil. There is already a discussion to make "crude (oil) to power)" available. However it needs to be tethered to the overall economy if the issue of subsidies is to handled. If Uganda lights up 6 or 7 towns with crude oil it has it can help massage the economy and create not just demand for energy but economic activity from small businesses outside the capital (sadly almost all taxable income, over 90% is generated in Kampala).
Uganda desperately needs this partly to buy time against building extra dams and firming other sources of electricity. Oil in fact may be the savior of already scarce water resources which will have other needs including irrigation for farming.
Perhaps later I will look at inflation within the context of fuel demand ( of which fuel for electricity is a part) of at another point. It's stopped raining now and I have electricity but somewhere in this city is a home that is wet and dark and for whom the rain is no consolation.
Comments
comments