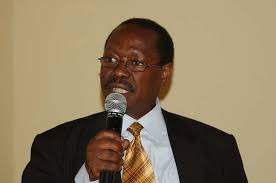 Reading Time:
6
minutes
I am sorry to comment rather belatedly about the death of Comrade Omwony Ojwok who died of heart problem arising out of his commitment to the people of Uganda. To be honest, I had not wanted to write in the papers about Omwony for I felt that what had been said and written about him was enough to let him rest in peace. But what has provoked me to write here is the article written by Augustin Ruzindana in his weekly column in the Daily Monitorheaded: "Omwony-Ojwok: the double-edged patriot" (Daily Monitor, November 23, 2007).
Be that as it may, Omwony Ojwok died when I was attending a UNESCO academic initiative in Djibouti of a selected group of scholars and intellectuals of the Greater Horn to establish a Think Tank or Forum for future-oriented studies for the region. However, immediately I touched down in Nairobi from Djibouti on the day after his burial, I rang comrade Edward Rugumayo to brief me about what had transpired. I got him while he was on his way back to Kabarole after the funeral and he informed me that he with Yash Tandon (who had flown all the way from Geneva to attend the funeral) had spoken at the funeral and explained why I was not present as well as giving their account of Omwony's role in our politics.
Omwony Ojwok was a great Ugandan compatriot, whose love for Uganda and the people of Africa was immediately noticed by anybody who interacted with him. This young man struck me as extremely patriotic when I met him on my return from my studies in the UK in the mid-1960s. He was then a young student/activist at Makerere and his brilliance and honesty could be immediately discerned in the way he debated issues. It was not surprising that with those qualities he was elected the guild president at the university at the time.
Although I did not consistently interact with him in my support of the UPC Youth League at Makerere at this time, I had the opportunity to establish links with him in the period after my release from detention in late 1970 and immediately after Amin's military take over in 1971. My advice to him and students at Makerere was that they should not panic about the military take-over or to try to get involved with Obote's politics of trying to regain power but instead try to survive the crisis because there was a lot to be done in the future. I also told the same to Yoweri Museveni when he came to my home in Mbale on my release from detention to convince me to rejoin the UPC and take part in the three-plus-one elections, which were scheduled to take place and later when he telephoned me immediately after the coup d'etat from Bukoba in Tanzania asking me to join "us" (meaning him with Obote) "to fight Amin." I declined the offer and told him to mind his own business. I have never regretted that advice.
Later, Omwony Ojwok linked up with me after I had resigned from the Chairmanship of the East African Corporation in 1974. I proceeded to Dar es Salaam in exile and at that very time I, with Rugumayo and Paulo Muwanga, tried to organize a mass resignation of ministers from Amin's government after having done some good home work. The plan fell through because events moved very first after Rugumayo resigned from the regime while he was in Nairobi. Omwony Ojwok had proceeded to Geneva to pursue his studies for a Masters degree in law.
I visited Omwony Ojwok in Geneva around this time and stayed with him for about a week. During this time, we strategized the future of the resistance in a more orderly manner. He left his studies for a PhD which he had embarked on after his Masters degree and joined us in Tanzania where I was now teaching law at the University of Dar es Salaam. He was also admitted as a lecturer in the faculty of law. From here we, together with Yash who was a Professor in Political Science, as well as a number of students such as Augustin Kayonga, Sam Magara and Frederick Jjuuko and many others, were able to develop strategies for participating in the resistance at home and abroad.
We felt there was need to develop the politics of the resistance a little more in order to avoid problems of militarism that we are now witnessing. We eschewed militarism for its sake and advocated a democratic movement that would embrace all Ugandans in the resistance before we returned home. We were deeply involved in the 'Dar es Salaam Debate' and were able to develop good young comrades who later returned home to organize pockets of resistance in the country.
It was at this point that Amin's troops attacked the Kagera Salient of Tanzania wanting to annex it. Omwony and I had maintained a weekly dialogue with the late Milton Obote at his Msasani home about his role in Uganda politics. This enabled us to try to engage him in a broader alliance of political forces to join the Tanzanian army in dislodging Amin. Obote objected to this strategy believing that his army could do the job instead. At this point, Obote was engaged in negotiations with other military groups, including Museveni's Fronasa and the Save Uganda Movement-SUM, to try to form a 'United Front' of military groups. But this had by March 1979 failed to produce any tangible agreement because each group insisted on having a higher position in the post-Amin government.
It is at his point that we made contacts with different groups to form a broader national democratic united front, which could act as a galvanizing body to mobilize political opinion at home that would help the war effort of the Tanzanian troops and that of our own military groups that were fighting along side the Tanzanian army. I write this in order to respond to Ruzindana who gave a completely partial view of the situation at this time in the article referred to above. Firstly, it is wrong for Ruzindana to impute that Omwony Ojwok was a 'double-edged' patriot as to suggest that he was an opportunist because he had joined the NRM. Secondly, he refers to a meeting, which discussed how an alliance of forces could be formed. In fact this meeting was not held at my house as he suggests. How could I have walked out of my own house? The best I could have done would was to ask everyone to leave my house, but I did not because the meeting was not held there!
The meeting was in fact held behind Yash Tandon's house opposite my house on Mukoroshoni road at the University. It was attended by the 'Changombe Group' to which Ruzindana, Yoga Adhola, Wafula and Mahmood Mandani, among others, belonged. The meeting was also attended by our group (Movement for Democratic Unity) as well as Museveni representing Fronasa. It is true that the Changombe Group and Fronasa argued in favour of forming a military front to which we strenuously objected and hence the disagreement. In fact that disagreement meant that the meeting had come to an end and so there was no need for anyone to walk out of anything because there were o further discussions. But the disagreement was crucial because it drew a clear line between those who supported a military line as opposed to those who supported a political line that would control the military. As I understand it, Ruzindana has since he left the NRM observed that the 'Gang of Four's' position against militarism had been a correct one in view of the later events. But that is beside the point.
The real issue here is how we should valuate our political performances and I object to the way Ruzindana depicts Omwony Ojwok's participation first as Director of the AIDS Commission and later as a minister in the NRM government as inconsistent with his opposition to militarism. In both these roles Omwony Ojwok worked hard to build the infrastructure of the AIDS Commission to the level from which others took over and improved. In this role, Omwony did not serve militarism in NRM (to which Ruzindana at the time was part of) but the people of Uganda. Surely, regardless of Ruzindana's current political beliefs, he cannot downplay this role from which many of our people suffering from HIV/AIDS are benefiting regardless of who is in power? Secondly, Omwony's accepting to serve as a minister in the NRM government was well considered. We debated with him about this role but he convinced many of us that he believed he had a role to play in the government. However differently we can now look at this role, there can be no doubt that Omwony carried out this role with diligence and commitment and because of this commitment died on the job in the service of his country.
Ruzindana, like many compatriots, had joined the NRM when some of us opposed it and still do so on the grounds that he states. Ruzindana knows very well that these militaristic tendencies that we see in the NRM today did not spring out of thin air. They were there from the very beginning and that is why some of us refused to support it at a time when Ruzindana supported it. But he, along with other compatriots in the NRM, formed PAFO within Parliament as members of NRM to fight against aspects of that dictatorship, which led to the formation of the FDC. And just like he did, there are many compatriots in the NRM today who are fighting within the NRM for the same ideals that FDC, UPC, DP, CP and other parties are fighting for.
We cannot therefore simplistically conclude that everyone in the NRM supports militarism and one-man rule, just as we cannot conclude that everyone in the FDC, UPC, or DP are democrats. It is high time that senior politicians like Ruzindana who have seen so much suffering in this country rise above petty differences to build unities across the political party divide to bring about real change that can benefit the people of Uganda. If we can do this, most of Ugandans would agree that compatriot Omwony Ojwok was a great Ugandan and a Pan-African at heart both in beliefs and deeds.
MAY HIS SOUL REST IN PEACE.
Dani Nabudere
Comments
comments