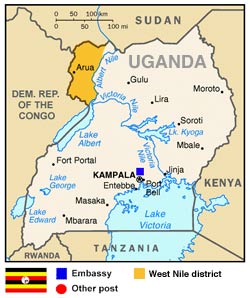 Reading Time:
3
minutes
I am tempted to write about West Nile night, the once-in-a- month groove that brings rumba, Congolese dance and buses to town some cool cats from Arua, Moyo, Adjumani and Koboko to a fete at club Palui in Ntinda. But perhaps another time. It is a cultural experience not to be missed if ever you are in Kampala. The sheer number of patched jeans, the whirl of constant waist shaking and genuine happiness transported me back to my school hall in Moyo Senior Secondary, back then when I was something of Mr. Happy Feet when Wenge Musica played .
Anyhow.
Some  of you may have noticed the domainUgandaoilandgas.com. It is registered and owned by Mr. Hakeem Muwonge who together with Dennis Kusasira, Henry Kaliisa and George Senyomo are partners in perhaps the only firm presently focussed exclusively on oil, gas and minerals.
Kusaasira & Co. – OiLaw Profile (1)
There are several individuals within the legal, engineering and other professions associated with the oil sector but no firm has been set up specifically to serve it. The partners are part of the new breed of younger professionals flocking to the oil industry.
Dennis Kusasira and Henry Kaliisa are graduated from the University of Dundee ( Scotland) a favoured direction for Ugandan students seeking to join the sector. Am not sure why Dundee? but I first heard of the destination in relation to a less talked about government sponsorship program to grow the stock of Ugandan professionals ( more of this at another opportunity).
I first heard of Hakeem Muwonge when our Think Tank Kwawote organised Uganda's first oil sector debate back in 2008. He was one of the only African students studying in Professor Jacqueline Weaver's class at the University of Houston, another coveted direction for Ugandans eager to make their mark in the oil sector.
Since Kwawote was set up as a network of Ugandan professionals ( as amongst others a forum to trade in active research in changing policy), Mr. Muwonge spoke on behalf of the Think Tank several times on oil issues. The Think Tank promotes the participation of local professionals in all sectors but in particular the oil sector.
Several weeks ago I visited their new offices at Plot 18 Shimoni Road next to the Imperial Royale Hotel to speak to them about continuing public engagement in the oil sector besides running a business consulting.
" We hope that our firm will lead the way in drawing out professionals specialising in this area. So far because the oil industry is new those involved in it have not be specialists or have been foreign experts" said Dennis Kusasira.  A booky bunch, the group were happy to show me their growing library.
No doubt many new firms will be set up for business in the oil sector. The Non-governmental civil society is one of those. One of the focuses in the upcoming laws will be the participation of nationals and presents an opportunity to shape the attitude of Ugandans to the sector, especially young professionals joining this area, polarised right now by politicking by well, professional politicians.
Within the journalism fraternity the African Center for Media Excellence ( ACME) started by my two former editors Dr. Peter Mwesige and Bernard Tabaire is in its second cycle of media fellowships training a new generation of journos covering this sector.
We will try and profile more Ugandans critical to the oil industry in the coming weeks. Hopefully they will fine tune this slippery sector and get it to dance to a new beat ( no pun intended).
We sign off with Prof. Paul Collier's lecture paper from the annual lecture commemorating the first Central Bank governor in Uganda last week (Prof _Collier's_paper_Oct_211). The paper is on managing the oil and gas sector in Uganda. Collier, one government official said to me is an advisor to our President- a point we are bound to return to as well.
Comments
comments