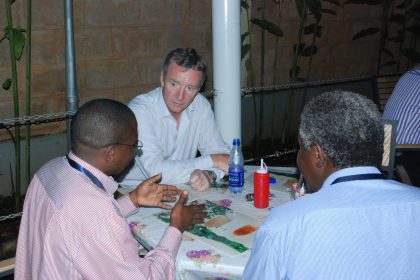 Reading Time:
2
minutes
This morning, Uganda's embattled Attorney General took leave of a Parliamentary Committee inquiry into allegations of bribery by oil companies to head to State House Entebbe, the official residence of the President of Uganda.
The inquiry is trying to establish the veracity of allegations against the Prime Minister Amama Mbabazi, the Foreign Minister Sam Kutesa and a former Energy Minister (now Minister for Internal Affairs) Hilary Onek. Well, I just learned that the said oil Executive is none other than Tullow founder Aidan Heavey who is according to my sources touring a number of Tullow's Africa assets in a pre-planned visit. He arrived yesterday November 16th and leaves on Friday the 18th.
As I write this, Mr. Heavey, whose dream, according to those who know him, is to make Tullow the next BP is meeting with President Museveni. Details of their meeting may not come out immediately.  Neither State House or the company has acknowledged the visit, aside from the tip given freely by the Attorney General- Peter Nyombi. The AG has been leading efforts in Parliament to defend the accused Ministers while Tullow has written to the Speaker of the House, to deny the bribery allegations. Its plausible that Mr. Heavey, whose chief counsel Graham Martin, communicated to Parliament the company's readiness to defend its public integrity, will be getting what appears like a briefing on the issue.
Recently, the President rejected Parliament's decision to hold Tullow's farm-down, so it is also clear that will be on the table. Several officials have told me that the President is still pushing for lifting of various protection clauses and I expect that the meeting today will dwell in some detail on the issue. Another oil company lawyer, the Chief Counsel for Total Mrs Mary Begg-Safar who also has scheduled meetings with the Presidency. At heart according to reliable sources are the terms of the farm down. " They would like to assure the President that the agreement is no different from the practice in other countries and that there is no intention to rip Uganda off" one oil sector professional said. Mr. Heavey meanwhile has mainly concentrated on the Kitante based head quarters of Tullow.
One picture here shows Mr. Heavey chatting up staffers at the company lunch. He also has been meeting individuals. More of this meeting later. Tullow has announced that it expects approval of its "soon".  A claim repeated at Catham House by Uganda's Energy Minister, Irene Muloni. She said the deal was in its final stages. More on the negotiations over the stabilization clauses as soon as it's available but no deal has been signed in today's meeting.
Comments
comments