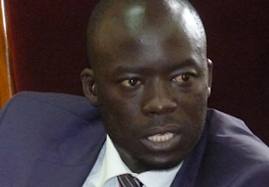 Reading Time:
1
minute
Odonga Otto MP, like we like to say in Uganda is "no joking subject". Not long before the last election he told me he was disgusted with the quality of politics and he would be quitting.
He is a lawyer and a writer in fact who has written on the subject of the "theory and practice" of Parliamentary democracy.
And so he run apparently for the last time in 2011.
The House however must have seared his conscience because yesterday he announced, after nearly assaulting the Deputy Speaker Jacob Oulanyah, that he would contest in the latter's constituency.
This is vintage Otto.
It's the kind of dramatic episode  that we used to commence with the phrase "trouble begun ", when so and so did this and that.
Here is the piece run by the Daily Monitor about yesterday's parliamentary drama that started instead with the phrase " drama ensued". However for those who look beyond entertainment ( Otto was dressed for the part in a light blue suit, grey shirt and grey tie, more like a theatre director than an MP), the matter at heart is much graver.
It involves the noxious so-called Public Order Management Bill, one of those laws that may fit snuggly in North Korea or Apartheid South Africa but has no place in a democracy.
Read for yourself.
Public_Order_Management_Bill_2011 (1)
Comments
comments