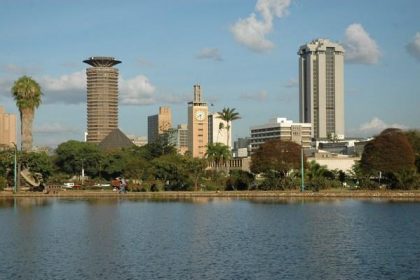 Reading Time:
3
minutes
NAIROBI, Kenya (AP) – Riot police fired tear gas and water cannons Thursday to beat back crowds of rock-throwing opposition protesters in the slums of Kenya's capital, where deepening postelection violence in what had been one of Africa's most stable countries left shops, cars and a church in flames. Opposition leader Raila Odinga had called
EU foreign policy chief Javier Solana spoke by phone Thursday with U.S. Secretary of State Condoleezza Rice, agreeing that the EU-US focus should be on pressing the parties in Kenya to establish a coalition government,an official from Solana's office said. They also discussed a proposal to send a joint EU-U.S. envoy to Kenya to mediate, the official said, speaking on condition of anonymity because of the sensitivity of the issue. Neighboring Uganda's President Yoweri Museveni's office said he had spoken to the two rivals, also trying to end the unrest. But Museveni also issued a statement congratulating Kibaki for being re-elected. The bitter dispute has shaken Kenya's image as an tourist-friendly oasis of stability in a region that includes war-ravaged Somalia and Sudan. The country's main newspapers ran front-page banners urging Kenyans to «save our beloved country,» one of them over a photograph of a wasteland of dozens of recently leveled and burning shacks in a slum. «It's got to stop,» U.S. Ambassador Michael E. Ranneberger said of the violence, speaking on Kenyan Television News interview. Kibaki «needs to speak out and Odinga needs to speak out and bring this thing to an end.
In London, major tour operators in the United Kingdom suspended holidays to Kenya for at least two days, the Federation of Tour Operators said. An estimated 3,000 British tourists already in Kenya on package holidays are expected to complete their stays, the group said.a «million man» march to protest President Mwai Kibaki's re-election in the Dec. 27 vote, insisting the poll was rigged. But the hundreds of thousands of supporters expected were unable to make it to the city center, and Odinga called off the rally. The political dispute has degenerated into ethnic violence nationwide pitting Kibaki's influential Kikuyus against Odinga's Luos and other tribes. About 300 people have been killed and 100,000 more displaced. Attorney General Amos Wako, meanwhile, added his voice to growing doubts about the validity of the poll results, calling for «an independent person or body» to confirm the disputed tally. Wako did not elaborate or say whether an independent body would include foreign observers and it was unclear whether he had the backing of Kibaki or had made the statement independently.
In the Mathare slum, rival groups of angry men hurled rocks at each other. Black smoke billowed from a burning gas station, and several charred cars sat along roadside. The corpse of at least one dead man lay face down on a muddy path, and a wailing wife pulled her battered husband from the dark waters of the Nairobi River where he had been dumped and left for dead by his would-be killers. Kenya Television Network broadcast footage of a church consumed by fire in the Kibera slum across town. Earlier in the day, police in the same area fired tear gas and water cannons to push back a crowd of several hundred people holding branches and white flags symbolizing peace. Some burned an effigy of Kibaki and waved placards denouncing him as the devil. «Without Raila there will be no peace,» said one of the protesters, 22-year-old Edward Muli. Elsewhere, smoke from burning tires and debris rose from barricaded streets, not just around the city's huge slums where hundreds of thousands of Odinga's supporters live, but on main roads leading into suburbs home to upper class Kenyans and expatriates Downtown was almost completely deserted, except for truckloads of riot police in red berets who kept protesters away from Uhuru Park, the would-be destination for the rally.
Police Chief Mark Mwara called the protesters «hooligans» and accused them of attacking petrol stations and supermarkets. Some shops around the city were set on fire. Odinga toured a dozen freezing rooms at Nairobi's City Mortuary, which was full of the bodies of babies, children, young men and women. Some bodies were burned, others had wounds on the head but many did not have visible wounds. It was unclear when the people had died, but opposition officials claimed some of the deaths were Thursday. «What we have just seen defies description,» Odinga told journalists after visiting the morgue. «We can only describe it as genocide on a grand scale. Though both sides say they are ready to talk, the Odinga and Kibaki camps have mostly traded accusations that the other is fueling ethnic violence. Odinga says he will not meet with Kibaki unless the latter concedes he lost the presidency, something Kibaki is unlikely to do.
Foreign observers and Kenyan human rightsgroups have questioned the vote count, as has the chief of the nation's electoral commission. In a bid to help ease the crisis, South African Nobel peace laureate Desmond Tutu flew to Nairobi and met Odinga. Speaking to reporters afterward, he said Odinga was ready for «the possibility of mediation. Tutu gave no details but said he hoped to meet Kibaki as well. Government spokesman Alfred Mutua said Kibaki had no plans yet for such a meeting.
Source PR News
Comments
comments