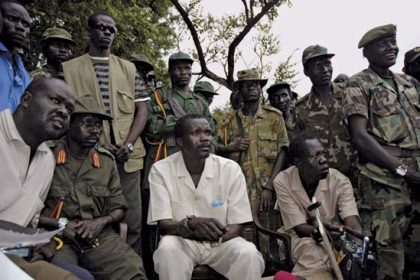 Reading Time:
2
minutes
Several attacks, the fiercest being on the market town of Kajo Keji at the Ugandan-Sudan border have been blamed on the Lords Resistance Army.
However days later the LRA were also reported to be moving women and children from their settlement camps in Garamba National Forest in DRC.
The motive for the attacks and abductions now appear an attempt to stock up so that the rebels can make urgent moves. However it now appears that the LRA has two wings that may be operating under separate commands.
Ceaser Acelam a long time confidant and operational deputy of the deceased LRA leader Vincent Otti more probably led the attacks.
Since the purge of Otti in October last year- Acelam has been operating on his own after surviving himself. In November it was widely expected that Acelam- who has been in charge of LRA operations in Northern Uganda while the group moved to DRC- would surrender to UN forces.
Since then I have learnt Acelam will not defect and may in fact be pursuing his own agenda. If Kony and the other indicted commanders move further into Central African Republic it is more likely that LRA will maintain a force in the form of Acelam and his group.
There have been increased reports of rebel recruitment in the West Nile district largely of ex-combatants that can also be associated with his activity there.
The recent events though denied by LRA point to a strategy by the group to keep its peace team (which has been shuffled twice and weakened as a result) representing a public face of conciliation within the time frame of the peace talks while its military wing adjusts to the possibility of renewed clashes.
It also points to a weakness in the Juba process itself where the question of the international warrants of arrest are unlikely to be resolved as they ideally would demand that the rebels submit to accountability mechanisms in Uganda.
Unless some accommodation is found- this means that no enforceable agreement will be signed in Juba and both sides can resort to new violence as an exit from the process.
The emergence of Caesar Acelam and a secondary wing of the LRA operating outside the control of Kony and within reach of the Uganda-Sudan border is worrying indeed.
A failure at Juba will give any new group ground to continue fighting and such a group is probably able to shake off and operate without the pressure of the ICC warrants which have been credited for bringing Kony to the negotiating table.
Comments
comments