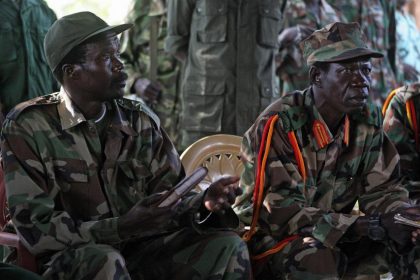 Reading Time:
2
minutes
Rebels of the Lord's Resistance Army (LRA) said they have shot down a helicopter gunship of the Ugandan army aviation inside DR Congo. The Ugandan rebels Spokesman, David Matsanga, was reported today by the United Nations FM radio in Juba to have confirmed the downing of the helicopter during the continued fighting on Thursday with the Ugandan forces.
The Ugandan forces carried out both air and ground attacks against the LRA bases since 14th December in north-eastern DR Congo and still continuing.
Matsanga re-affirmed the LRA's desire to reach a final peace agreement with the Ugandan government.
Earlier, media reports quoted Ugandan army officials as saying their air attacks had destroyed up to 70% of the LRA bases inside DR Congo. But other contradicting reports say the army hit empty camps without the LRA combatants in those camps.
In a related news development, the Vice President of the Government of Southern Sudan and Chief Mediator of the Ugandan peace process, Dr. Riek Machar Teny, rejected accusations made by the LRA claiming the involvement of the Sudan People's Liberation Army (SPLA) in the joint regional military offensive.
Machar said the semi-autonomous Government of Southern Sudan has no security agreements with the DR Congo and that the SPLA forces could not involve in an international fighting in foreign land without the approval of the Central government in Khartoum.
"Southern Sudan is not an independent country that can involve in fighting in another country without the approval of the President of the Republic," he said.
Last week, the Government of Southern Sudan's Council of Ministers resolved to reinforce the deployment of SPLA forces inside Southern Sudan territory to close and secure its borders and major supply routes leading to and fro Southern Sudan from Uganda, Kenya and DR Congo.
It also temporarily suspended its mediation efforts until the two warring parties are ready to resume to the peace process and sign the final peace agreement.
reported by James Gatdet Dak
Comments
comments