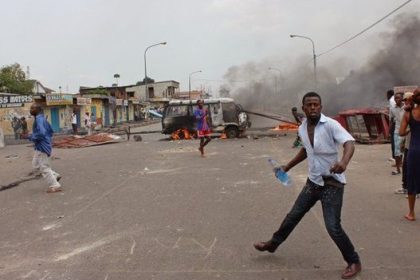 Reading Time:
1
minute
Sources are reporting that the Eastern DRC town has been in a panic since morning caused apparently by a rumor in the town that army of Gen Laurent Nkunda which has been fighting in the neighborhood will soon attack it. This is likely to pressure Monuc, the UN Force which has already intervened once to support the Congolese national army, to expand its activities.
There are some situational reports which remain unconfirmed. Fighting in Masisi reportedly claimed the lives of several Congolese army soldiers whose bodies were transported via Goma causing considerable fear.
It's also being noted that the DRC defense Minister has been protected in a military camp following fears of protests. I cannot say what the end game is. Nkunda has been reinforcing for a while and was before the current crisis been said to be planning an offensive of his own.
If more territory is the intention, it may signal the beginning of structuring a more independent entity in Eastern DRC or some argument for autonomy of some sort. However one has to look to who justifies this either explicitly or through some implied actions. As is the case with DRC, one has to wait and see.
Forecast
The current crisis is unlikely to take on regional dimensions involving DRC's immediate neighbors. However the humanitarian situation is bound to raise its profile in the next few days and weeks while among policy circles questions will be raised about the viability of the Eastern Congo peace process and the role of Monuc itself.
aizama@monitor.co.ug
Comments
comments