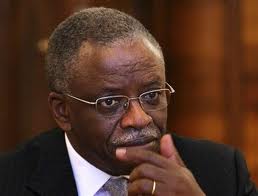 Reading Time:
2
minutes
This is a quick post to capture the rather extraordinary direction that the whole Kony 2012 is taking. Firstly, Uganda's Prime Minister Amama Mbabazi who has long held a twitter account (@AmamaMbabazi) decided to start tweetingmessages to a handful of celebrities including Justin Bieber, Lady Gaga and George Clooney. Others are Bill Gates, Angelina Jolie and Mark Zuckerberg of FaceBook. The messages say, " As PM of Uganda, I appreciate your interest & invite you to visit. We have peace, stability & great people". Mr. Mbabazi uses the hashtag "#KonyisntinUganda".
Those who follow me on twitter (@opiaiya) recall I had tweeted him a few days ago saying 100 million people thinking there is conflict in Uganda is a serious matter. At the time he (Mbabazi) said a response from Uganda was warranted but should not obscure a campaign that draws attention to the country.
Perhaps something has changed with the government and its public relations people. The Irish firm "Glenevin Operational Risk and Security Consultancy" advises the government on its image and clearly its advice has been a late comer to the whole Kony 2012 affair.
Uganda may now be planning its own YouTube videos.
A couple of civil society groups have already been aggregating local response to the most viral video of all time under a hashtag #Ug2012. But perhaps nothing prepared the online community for the news that Jason Russell had been arrested for allegedly being a public nuisance in San Diego, California.
This news and Invisible Children's response that he had been under the strain, probably from both the fame and criticism of Kony 2012 has sparked a new hashtag now trending #HORNY2012. It appears the next few days will bring even more spotlight to Invisible Children as an organization and the video itself rather than the issue they hoped to raise which is how to end the career of Joseph Kony. Like I said in my initial post on the video those in the conflict prevention community will hope this goes away soon.
That said we all need to pay less attention to Invisible Children or even to the video. There has been no good news in the last 48 hours from the region where the LRA operate.
In South Sudan which aught to feature more prominently as the new "Northern Uganda" refugees fleeing tribal clashes in Jonglei (which has claimed anywhere up to 7000 lives since 2009) have arrived in such far off places as guess , Northern Uganda and Ethiopia according to reports.
Meanwhile the hunt for Kony appears complicated by poor relations in the "fellowship of the ring" the ring being the encirclement by forces from DR Congo, CAR, Sudan and Uganda with US support. A lot of this and not Jason's "hands being full" should appear on our twitter feed. But like Kony2012, social media is easily distracting of the real issues-, which was my point about the movie in the first place.
My prayers are with Jason and his family as they overcome this episode of their lives.
Comments
comments