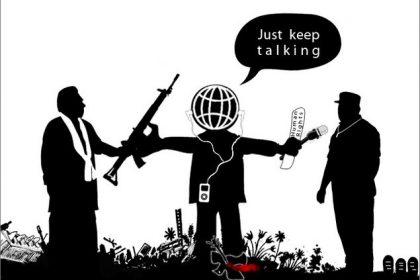 Reading Time:
2
minutes
HUNDREDS of Lords Resistance Army rebels have been seen moving towards the Central African Republic, a Senior Sudanese official has said.Speaking to Daily Monitor via a satellite telephone, Mr Jeseph Ngere – the Deputy Governor of Western Equatoria Province – said the LRA seemed to be shifting camp.
"We have seen hundreds of LRA rebels, children, the elderly and fighters moving westwards in the direction of Central African Republic. They have been moving for the last two days," Mr Ngere said.
Unlike in 2007 when a smaller group travelled to CAR, "this time they are moving peacefully, they are not attacking SPLA forces," he added. According the Cessations of Hostilities agreement signed in August 2006, giving way for the longest lull in fighting in northern Uganda, the rebels are supposed to assemble at Ri-Kwangba – an assembly point at the Sudan-Congo border.
The Uganda Government, which has been part of the ongoing peace talks in Juba for the last 20 months, has warned that the movement could be in violation of the agreement.
"If the LRA has left Ri-Kwangba, they should know that that is tantamount to a violation of the agreement and wherever they go, they will not be safe," said Capt. Paddy Ankunda, the spokesman of the Uganda Army. But the LRA has dismissed the accusations as government propaganda.
"Those are stories cooked up by those who are against peace returning to northern Uganda, we urge them to stop such damaging talk," said LRA chief negotiator and spokesman David Matsanga-Nyekorach. This is the second time the LRA is moving to a region in the Central African Republic controlled by the rebels.
The United Nations Mission in Sudan, UNMIS, reported in February 2007 that some 400 LRA fighters were making their way from the Ugandan LRA main base in the Garamba National Park in DR Congo, through Tambura in southwest Sudan and across Mbokou River into CAR to join up with the Popular Army for the Restoration of Democracy (APRD) fighters.
CAR President Gen. Francois Bozize, who flew to Kampala last year, gave an assurance to his Ugandan counterpart Yoweri Museveni that his administration would deal with any LRA presence in his country. A report by the International Crisis Group said LRA external backers had airdropped arms for the LRA in CAR, when they first went there.
The LRA and the government resumed peace talks in Juba last week but the rebels asked for a break to consult on Disarmament Demobilization and Reintegration (DDR), an agenda item they will debate next. The Uganda government has given Kony until end of March to sign a deal or risk a return to war.
Talks between the two sides started in July 2006, raising hopes of an end to a war that has caused tens of thousands of deaths and forced nearly two million refugees into camps that aid workers say are among the most squalid in the world.
Reported by Frank Nyakairu- Daily Monitor
Comments
comments