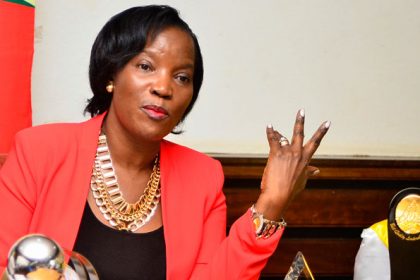 Reading Time:
4
minutes
I entered the hotel through the main entrance. Once upon a time this hotel and conference center treated guests upstairs to African tea and cassava bread while muscle men beat and tortured anti-government elements below. So active was the detention center below that its blood sputtered walls could not be cleaned fast enough. An operation to quickly dispose of the bodies went on. The busy bodies today however were mostly workshop types and civil servants.
Deals that could kill still go down here of course but gone are the Peugeots and jeeps with their load of human misery.
That afternoon, years ago, I was on a different mission at Nile Conference Center – now the Serena Hotel in Kampala. The downstairs office I approached was lined with fading red wall-to-wall carpeting with a slight damp cavenous smell. It was manned by a one or two policemen who signed me into a waiting area. There was going to be an interrogation yes but of a different kind.
When I first saw her, I was surprised at how rather petite she looked. She came out to meet me with a smile and barefoot save for her stockings. This was one of the most powerful jurists in Uganda- Justice Julia Ssebutinde. She was conducting a wide-ranging inquiry into corruption and mismanagement of the Uganda Revenue Authority- today one of the rare success stories of institutional reform in Uganda. Justice Julia was clearly "into her looks". I recall she had a nice scarf and make-up. Her size probably caused many to underestimate her.
I am not a huge fan of judicial inquiries but used properly they form a good legal basis for making institutional changes. The URA inquiry succeeded somewhat. The agency got leaner and invested in new systems. Where you had to see a cousin of a friend of a relative to "push your papers" today in many cases you will fill a form and pay the dues at the bank.
This week I met Kampala's new Executive Director Jennifer Musisi, a one time Commisioner of the revamped tax collector ( I also run into URA Commisioner General Allen Kagina and her husband at a US Embassy event for the oil sector, more on this later).
It occurred to me that some of the reform czars in Uganda's checkered recent history of institutional reform have been women like Ssebutinde, Justice Faith Mwondha or Allen Kagina.
Let me make a quick observation about this happy co-incidence. In the old days I was told my grandmother, a teacher made quite a spectacle riding a bicycle or attempting to drive her husbands car. In the 80's while in primary school, despite 18 years of independence, women I recall in the work place were nurses, secretaries and some teachers. This were the days when it was normal to think of the nursing colleges as the high point in women's education, save in a few elite families.
Today Ugandan men do not think twice having a woman for a boss but these are truly different times. There are more girls at university than boys in some fields. This social leap is critical. There are countries say in the Middle East who, despite their wealth, have not made that transition. I think of them as basically backward.
When I entered the Ssebutinde "courtroom" and took an oath I was not thinking gender anymore. But perhaps there existed a pattern after all of politically difficult reform being conducted by the fairer species. Ssebutinde was tough as nails. She is now trying Charles Taylor at The Hague. But for now her manicured hands shifted through thick files on her desk. As a journalist on the trail of influence peddlers, she had thought I could share some of my perspective on the reach of big business in regulation.
Jennifer Musisi cuts a more austere figure than Ssebutinde. She spent a great part of her almost two hours in our studio at 933 KFM, sitting straight. She speaks deliberately and purposefully. Her job too is a lot more tricky.
Bernard Tabaire, the host asked her if she can come to the Saturday morning show ( Hard Talk) but she said she needed her Saturday's to " cook and clean" and " spend time with her children". No exceptions. Her aide like her is born-again lawyer
Like other Amazonian reformers from the NRM stable- she was appointed directly by President Yoweri Museveni and cites his support for doing what is probably one of the most difficult jobs remaining in the country- the reform of Kampala city, home to close to 4 million people. Kampala is more than a capital city. It represents over half of the Ugandan economy. Besides slums, potholes, bad hospitals and pollution " over 40 years" of neglect has created a frankenstien of brick and blood.
It's not clear how far Musisi will go. One of her main headaches has been bringing sanity to public transport, which is run by a private company with important political connections. But she has some good ideas many gleaned from her days in the URA. I asked her how she would, if she had a free hand, deal with UTODA. The company has been reeling under pressure from drivers and conductors over the unofficial fees it collects and hardly remits to either URA or the city.
" I would have them pay fees at the bank" she said.
I had always wondered why UTODA was such a complicated problem. It's as Kampala as its potholes. This was the smartest answer yet. If every taxi owner had a TIN number and paid their dues to the bank- it would solve the problem of clusters of political interests collecting like vultures around the millions of unofficial fees UTODA collects and shares out to maintain political influence and the status quo. UTODA has an extension of its contract with the city coming and maybe this will be one of the deals on the table. As we walked down to her car- she said to me she wanted to understand " the big picture". Progress in little steps I thought. URA was never the same after the Ssebutinde inquiry. Next time I will write about meeting Allen Kagina and discussing her latest silent weapon that is the talk of the town.
Comments
comments