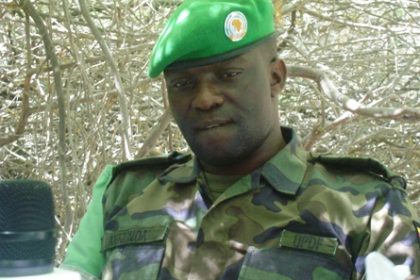 Reading Time:
4
minutes
Lt. Col. Paddy Ankunda is the Spokesman for the African Union peacekeeping mission in Somalia ( AMISOM). Uganda contributes the bulk of the AMISOM force together with Burundi.Question:  When do you hope to come home? What has serving in Somalia meant to you personally?
 Answer:  My tour of duty ends in May this year. So, I should be back home by mid this year. We live in a communicating world. Whoever does it better takes the day. Somalia has put me on the international stage and as such, it has helped me to sharpen my skills at strategic communications, in the setting of peacekeeping
 Question:   Could you describe to Ugandans what this deployment means to the UPDF soldiers? What personal stories do they tell?
 Answer: Peacekeeping is a new dimension in the UPDF doctrine; I mean the practical part of it. Soldiers got the opportunity to disprove those who thought we would make many mistakes. Soldiers now know how to fight in built up areas, a completely different form of warfare from the familiar jungle warfare. We all stand proud to have served successfully in an international mission.
Question: Uganda has been leading efforts for a "troop surge" in Somalia? What would extra-troops accomplish for AMISOM? What are the key challenges to AMISOM's mandate and goals that a troop increase would address?
Answer: Al shabab is in several regions of Somalia. In order to further stretch them, AMISOM will in the coming phase deploy in sectors outside Mogadishu. The territory will thus expand. Troop surge will therefore be necessary.
Question:  Until recently Uganda and Burundi have been doing the heavy lifting in Burundi. When you look back since the first deployment of UPDF troops- what have been your successes and losses? What has the UPDF learned from its duties as part of AMISOM?
Answer: The key success has been the final liberation of Mogadishu. Secondly, Somalia is now accessible to the international community as AMISOM secures the airport and seaport. Importantly, for the first time in many years, there is a government in the country, courtesy of AMISOM. Government institutions are beginning to offer services, including the army. However, this did not come on a silver plate. We have lost some guys along the way. May their souls rest in peace.
Question:   A key reasoning of Uganda at the Security Council in 2009/10 was that there was no peace to keep in Somalia. For example, Hon. Ruhakana Rugunda (Ugandan Permanent Representative) told me in an interview that the case of piracy off the coast was basically because hostiles controlled land bases. Is AMISOM's long-term strategy the occupation of the entire width and breadth of Somalia to deny Al Shabaab and other groups room to operate?
 Answer: The TFG military which we are helping to train will do that.  In the short term however, given more troops and other resources, AMISOM will seek to expand its foothold in the entire country.
Question: What is the difference between the ideology of Shabaab and that of AMISOM and TFG? In trying to win the support of Somalis how would you rate AMISOM's performance?
Answer: Al shabab kill civilians indiscriminately, and this is what terrorism is all about, AMISOM doesn't. We offer free services – medical, clean water etc. Importantly, we have provided security to the people. That's why over 95% of Mogadishu residents are in government/AMISOM controlled areas. These contributions endear us to the people.
Question: Given the conditions in Somalia including the recent famine, how would you describe the humanitarian challenge? Where is it most severe?
Answer: Famine has subsided in most parts. The international community delayed to respond after several warnings from agencies. In our view, famine is still a real challenge and the on-going efforts should instead increase.
 Question: Two other forces, Ethiopian and Kenyan, are participating separately in the fight against Al shabab. What is the relationship of AMISOM to these efforts administratively, operationally and politically?
 Answer: Kenyan forces are poised to re-hat (join AMISOM). So operationally it will be one force. Politically, we all have an interest in defeating terrorism and create a stable Somalia. Ethiopian forces have a bilateral understanding with the Somali government to assist. IGAD (Inter-Governmental Authority on Development) also asked them to support peace efforts in Somalia but they are not under AMISOM.
Question:  Does the UPDF envision a withdrawal from Somalia or is this an open ended deployment? If there was a withdrawal what would be the minimum conditions to support it?
Answer: Obviously, Somalia mission can't be open ended. But you realize that this is a political not a military question. When Somali government institutions become firm enough to support stability and delivery of services to the people, AMISOM will no longer be necessary. I can guarantee that one day UPDF will be out of Somalia.
Question:  What is the aim of the current operation? Is it to secure Mogadishu or is it the beginning of a push outside of Mogadishu?
 Answer: The forces have started a break out. A move from the built up area that is cumbersome operationally. Extending security to the environs of the city has effectively started.
 Question:  Who funds and supports the Al shabab? Are they the only hostile group in Somalia?
Answer: Al shabab is currently the only violent force fighting against us and the Somali government. Al qaeda network funds their terror. They also have other sympathizers across the globe who fundraise money.
Question: When the Somali deployment begun the Ugandan political and military leadership said the aim was to provide security so that Somali political engagement could occur. So far does the military see progress within the Somali community and clans as progressing towards that goal?
 Answer: Again, this is a political question. However, we have noticed some serious dialogue under the framework of the TFG Roadmap. Several consultative conferences taking place in the country have fostered this spirit.
Comments
comments