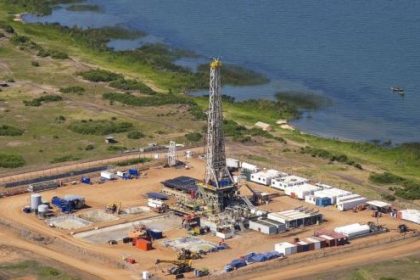 Reading Time:
2
minutes
Heritage Oil and Gas one of the pioneer petroleum exploration companies that put Uganda on the oil map is for sale. The deal was announced by the company in a statement issued on June 3 which said it was in talks which would result in a "reverse takeover" a term which refers to a buy-out of a company listed on a stock exchange. The company in question has been identified as Turkey's Genel Enerji even if both firms are yet to confirm a successful transaction.
If it goes through the deal could signal the exit of Heritage and its partner Tullow Oil from the Ugandan oil scene to make way for bigger firms capable of exploiting her oil fields. Both companies are at cross-purposes with the Ugandan government which wants to refine its oil while as early as last month Heritage and Tullow separately told their shareholders their production plans are for the export of crude oil.
A merger could mean Heritage's new owners could advance production plans if they are in harmony with the position of the Uganda government on the export of refined product. Shares of Heritage are no longer trading on the Toronto and London exchange where it is listed after it suspended trades while merger talks are going on.
In its statement issued on June 3 which appeared on its website [ heritageltd.com] the company confirmed that it was in "preliminary discussions with a third party regarding a possible merger which would be treated as a reverse takeover" but added that no agreement had been concluded.
Following the announcement Heritage shares reportedly surged before trading was suspended.
Tullow has also been in the spotlight over speculation that it too is a target for a takeover. However Tullow founder Aidan Heavey told shareholders at its Annual General Meeting last month that while it had been approached by larger companies including Chinese companies it's unlikely that a single company had the resources to buy it outright. The sticking point for both firms which have more lucrative assets outside Uganda [Tullow in Ghana and Heritage in Iraq] is how they fit into government's plans for an oil refinery. President Yoweri Museveni in the past weeks has met with Iranian government officials including President Mahmoud Ahmadinejad over possible financing for a refinery in the country. He has also met with senior officers of Libya's state oil company Tamoil over the same, a sign that he is looking to sovereign wealth funds to help finance a refinery in western Uganda.
TamOil, which won the concession to extend a pipeline from Eldoret in Kenya to Uganda is currently revising its plans so that the proposed pipeline can carry other oil products including refined petroleum company officials toldDaily Monitor.
Comments
comments