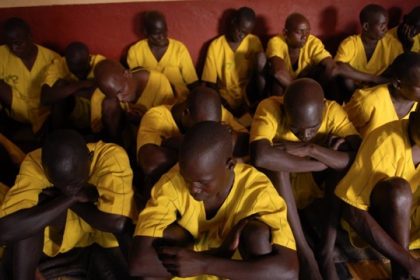 Reading Time:
7
minutes
In Luzira Maximum Security prison, a prisoner recently sliced off his penis in protest of his prolonged detention. In another incident last week Lira prison was shut down with the help of additional police and the army after detainees,outraged that their names were not included on a list for court, went on rampage. Prolonged prison stays, mostly on remand, before one has their day in court are an obscene hallmark of Uganda's criminal justice system. However thought about in its entirety it raises serious questions about compassionate society in which the delivery of justice and fairness are important measures.
It also begs commitment of Uganda's leaders to the delivery of public goods- whose efficacy is being presently debated voraciously as the fight "against" corruption.
A look at prisons and prisoners says volumes about the society outside. When seen purely as "case backlog", the long stays on remand are merely an administrative cog up. In fact what amounts to mass detentions without trial under inhumane conditions are a blight on the society. More so they attack the very presumption of innocence, a cornerstone of our justice system that considers you innocent until proven guilty.
Leaving this unfair system intact is not simply a matter of law to which we shall return. It is an indictment of a society's indifference, its inability to embrace higher values and its commitment to the neighbor next door.
As a matter of for the law- the flaccid response of the legal community including the judiciary and institutions that hold moral order in trust like the Church to this most obvious of transgressions is even more outrageous.
The presumption of innocence holds that punishment is a result of due process of the law; never arbitrary. Accused persons are protected under the constitution by the right to representation, the option of a plea to ensure the court proceed with determining their culpability, and the right to a speedy trial to spare them any undue discomfort should they claim innocence before the law.
Punishment that arises out of this process may be seen as just and fair. However for the majority of inmates in Uganda's poorly funded prisons this is not the case. Fifty four percent of all inmates are on remand, lengthy stays that amount to nothing short of extra-judicial punishment meted out prior to when their guilt or innocence has been determined by a court of competent jurisdiction.
We will turn to the prison situation shortly but any hope that prison is a place for rehabilitating those who have offended society can hardly be achieved in this process.
This sort of "detention without trial" is part of a constitutional petition, which remains unheard today – partly because of another administrative hitch; there are no judges to hear it.
According to the head of the Judicial Service Commission, Justice James Ogoola , 5 judges are immediately required at the Supreme Court, 8 at the Court of Appeal, 7 at the High Court and no less than 43 magistrates in the lower courts. The lack of judges is a huge contributor to inability to dispose of cases expeditiously. However even this number recommended by the JCC is conservative firefighting.
One attorney says no less than 50 judges at the High Court will be needed to reverse the backlog. Most replacements at the High Court are basically replacements for overworked justices 2 or 3 of who retire every couple of years. Besides their pay issues burnout ensures that Judges struggle to give every case attention imperiling the very presumption of innocence- a burden that involves both the Judge and the prosecutor.
The principle requires that it is the accuser [the state represented by the prosecutor] that bears the burden of proof, a high standard to erase any doubts about their innocence. As such enabling the burden to be discharged requires a commitment seen by the capacity of the courts and the prosecutor.
The petitioners in No 23 of 2011 are representative of many accused of capital offenses – the more serious cases against the commons.
Barihi Grace Peter and Fred Biryomumaiso are both accused of treason and were arrested in 2002. Both claim to have been detained and tortured in safe houses before being charged. After a year in detention they were granted bail. Since then almost a decade later they have been on bail unable to find work, leave the country or live meaningfully resulting out of the serious but unproven charges against them. They are required to periodically report to have their bail conditions extended never knowing if or when the Director of Public Prosecutions [DPP] will commence their trial or even drop the charges against them.
And they are the lucky ones because with legal representation they have taken advantage of their right to bail, a privilege that politicians want to remove as well.
Not only is their innocence or guilt unproven but being in legal purgatory, their right to a speedy trial has been repeatedly violated. Their petition filed by human rights lawyer Ladislas Rwakafuzi states the matters for the  of law in the following terms;
That requiring that those accused like the two men appear before the High Court only after committal [which involves the approval or not of  DPP, a member of the Executive before a lower court] is wrong. He also rejects the current state of the law in which committal proceedings are mandatory in order to simply initiate a process of trial after accused persons have been on remand for at least a year. During that year [which can extend to several for individual prisoners after committal] one is in limbo, neither guilty nor innocent nor said to be by any authority- simply accused, which is tantamount to being jailed purely on an allegation- which is another name for an unproven charge.
This was certainly true for a huge section of Ugandan prisoners accused of sex with persons underage [below 18]. Interpreted as "statutory rape", a capital offense, those accused languish in jails even if Judges themselves complained that in a great many cases from the customary countryside marriages were being contracted with those deemed officially underage – and disagreements about things like bride price led to arrests and subsequent jailing.
In other words the huge number of accused persons for statutory rape or defilement had the roots of their offenses in practices or policies out of the reach of the courts.
The petition however challenges the practice of the courts – the notion that a trial of an accused can be done at the convenience of the court-, which is essential to the argument her howe the system rigged against the presumption of innocence. This means after committal to the High Court one can be tried at an indefinite time- at the pleasure of the court. It may make sense considering the work load but its a terrible miscarriage of justice.
There are other problems too.
Committal proceedings, the petition points out,mean the accused often does not know the charge preferred against him or her [the law requires that they know], cannot prepare for their defense, are unable to plea bargain, are not afforded an attorney at the expense of the state and so forth.
Rwakafuzi also makes an intelligent case against the involvement of the DPP, a member of the Executive. If the DPP determines who can or cannot be brought before a High Court judge, he exercises a judicial function, a preserve of the courts ,he argues, whereas the High Court has what the law says is "original and unlimited" jurisdiction.
This is a veiled reference to the ability of politics and plain influence to bear on the DPP and members of his staff [he too is understaffed]. In the past I have argued that justice has been pushed into the black market because of the conditions we are discussing here such as poor pay for judicial staff and police officers – and the bubble to the top of political interference in the Judiciary which suggests that power not due process leads to a conviction or acquittal.
The petition also points out that it does not make any sense to take someone to a magistrates court [where the magistrate does not make any decisions accept listen to the DPP] for offences already known to be triable only by a higher court. Combined these interferences in the process of trial are a severe attack on the presumption of innocence but even more despicable they render punishment without justification, which can only arise out of a trial and offer opportunities for those with "resources" to escape the long arm of the law.
In Lira the prison outbreak was because inmates who had been on remand longer found their names missing on the cause list- the official roster for court appearances. The other lesser-told story about Lira is that the cause list brought was for people who had indicated they would plead guilty in anticipation that this is less bearable than their endless stay in prison.
Plea-bargaining is not official practice but both prison officials and lawyers say pleas of guilty have little to do with one's guilt but come out of desperation. Prison conditions are worsening with the growth of inmates- some say buoyed by increased resources provided to the Uganda Police Service. Since 2009/10 growth of prison population has almost doubled from 0.38% to almost 0.75% projected for 2012/13. This translates into a prison population of 36,832 projected for this year up from 31, 230 at the end of June 2010.
The largest spike in prison population was in the election year- 2011 according to internal analysis of the service. Holding capacity however has not changed much. Holding capacity of Uganda prisons slightly improved is over subscribed by 20, 413 inmates, a congestion rate of  238% that is expected to get worse.
Uganda has a high incarceration rate compared to the other countries in the region so for a space planned for a single inmate – three share. If innocent people are in jail they share it with potentially guilty violent murderers that top the number of people on remand for capital offences. It may be shocking to many that the budget for prison maintenance is just about 100,000 USD annually or 200 million Ugandan shillings. The shortfall is met by the selling of prison labor which unofficial sources say earn the service 3.5 billion shillings annually or about 2 million dollars [ a bare minimum]
This subsidy may be contributed to by both convicts and those on remand (convicts being fewer than remand inmates). However this distinction itself is deceptive since lengthy stays after committal when the court is unable to hear ones case are effectively a prison sentence no different from a conviction being served.
For a country that debates morality loudly- like the recent kerfuffle over the AHB [ Anti-Homosexuality Bill] it should be noted that most sex between men happens often non-consensually in prison. Indeed for moral reasons apparently condoms are not an option as a public health precaution because of the illegality of the practice in male prisons.
Anyway.
The crowded unhygienic conditions mean that aside from being punished without due process- the punishment is harsh and often results into the death of prisoners from disease [mortality rates from illness tend to be higher in prisons than outside]. Petty offenders tend to top the remand prison roster. Many will return not rehabilitated but trained to offend the law once more. A final note on the disregard for the presumption of innocence is that justice tends to be income dependent. Most people who are jailed for non-capital offences are attempting to make due. Theft and burglaries lead here with other "economic offences" as reflected in the annual police crime reports.
Poor economic conditions are driving crime.
Even if the police have greater resources the welfare of its offices remain wanting creating a political economy of crime that favors those who can bargain unofficially with the system. If we are to show we are a more compassionate society a lot more can be done to cure this broken system faster and to make it fairer starting with appointing more Judges, paying them more and addressing some of the legal issues put forth in the petition discussed.
Incidentally the story of the man without a penis was not because of the length of his sentence whatever this means- it was because he reportedly expected his name to feature on the list meant for pardon under the Prerogative of Mercy exercised by the President by law. Last I heard the committee that constitutes to consider cases has expired two years ago. None has been appointed since.
Comments
comments