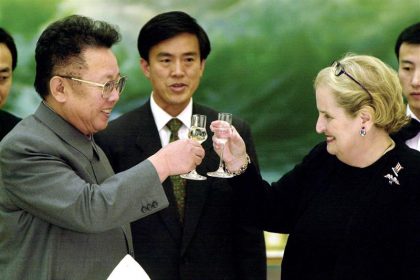 Reading Time:
5
minutes
All the dancing on the graves of dictators being so fashionable nowadays has conjured up a merry scene of a gathering in one of the eternal waiting rooms of a colorful band of departed strongmen. Since we who are still alive, and many who poke fun at the pathologies of the violently gifted are forever curious even when uncharitable; we thought a little fantasy trip to the confession room may help shed some light on up and coming dictators- like say Joseph Kabila, whose Christian name may wrongly suggest a messiah for the giant failure that Congo is, at least according to the critics and the jesters. For here I was sitting by a fire, a little cheese, wine, olives and holiday cheer, Ablaye Cissoko falling like light rain from my earphones recalling a past of studious patience when song, drums and personal meetings determined one's opinion of events far away, did I get accosted by a barrage of harsh words and jokes at the passing of Kim Jong Ill streaming through my twitter feed like the spittle of a mob at a public hanging. But a little voice, perhaps the sort that cautions one about the weight on the peddle at a traffic stop, said ghosts of dictators past were congregating somewhere to debate the present circumstances of the tribe.
What, I wondered, were these departed souls, with considerable egos in their previous station, chestfulls of medals, guards of honor and aides to sing their praises like a sound track to their own self adoration doing now? If a scribe were present to record this empty phase, where their notoriety and mischief is safely tucked away in unmarked graves or solemn mausoleums, what may be overheard? Perhaps not much.
Anyhow. Here our fictional and relaxed group of newly departed alleged mass murderers, because after all they were also loved, is watching a live-streaming of the Strong Man Channel- a modern day Bloomberg inspired data dump of events in real time of up and coming candidates broadcast in white noise somewhere in purgatory.
" Dictators used to live longer" ventured Idi Amin Dada  a.k.a " Big Daddy".  " Gone are the days of easy come, easy go" replied Mobutu Ssese Seko " But who can explain why this dearth of a good dictator? We are now unloved. How did we loose the battle for the hearts and minds". Amin looked across at Col. Muamur Gadaffi, himself looking rather sullen as if jetlagged by the time-travel to the heady days when many a dictator was celebrated or could devise such a celebration without much ridicule.
" Brothers I tell you dictator is the wrong term. We are revolutionaries and as you can see, we never die".
Gadaffi and Amin may be buds but the other newcomer in the room still wearing his shades is none other than Kim Jong Ill, whose recent exit has caused a buzz of excitement in the world of critics and a whiff of anticipation by those who wish his son godspeed. He has always looked ill but today he has the curtains drawn to feel more at home. Amin and Gadaffi continue to converse about the current condition of Africa. They agree that ex-revolutionaries (commonly referred to by many a critic such as that chap Christopher Hitchens] as dictators are increasingly an endangered species. Our fictional scribe sits up ready to take notes. There is momentary silence as Gadaffi known for his cerebral style and long speeches starts off by offering to the room what may well be a detailed analysis of the problem. Time here is after all eternal and there are no yawns to be expected. No one is going to sleep.
" It's a fine balance" he starts. " Take an example of Joseph Kabila who I have known since he was a boy. Just now he is about to cross the line into this esteemed circle of Lords gathered here by arresting and perhaps disappearing Etienne Tishekedi, Lumumba style, but the events of this past year have shown that a dictators best friends and allies for this sort of holy operation are not the same anymore. During the glorious years of the cold war these democratic countries were a dictators best bet.  You see for a dictatorship to flourish you need healthy democracies to support it. Like they did with brother Mubarak for years even if he did not have oil but just sand and guts. He is not like myself Gadaffi or Kabila. We are rich and we can spread our money around. But if you can no longer buy friends in the West- to hate you but not bomb you, what is this world coming to?"
Big Daddy chips in " I tell you this completely. It's a worrying trend. But DRC is cursed. I got some gold there in the 70's when Mobutu who is asleep over there was running things and it almost got me in trouble if I was not a good sportsman. If anyone can run DRC as a dictatorship then we have hope".
Kim Jong Ill who had been silent now taps his be-ringed fingers and says " China".
" What about?" asks Amin
" China is too big and too powerful. So the West has decided to confront her militarily" says Kim. He argues that if a dictatorship gets too powerful it gives a bad name to other smaller outfits. If China or Soviet Russia is seen as a Godfather of dictators everyone gets nervous he says. " The problem with revolutionaries like you Brother Gadaffi who have money is that the money, and oil and steel are more important as well beyond making a name as a small King. If only China remained closed like North Korea. They should have taken our advice and continued to starve and kill inside China. Now they have spoilt things" Kim laments.
"Completely and also" Amin retorts.
Gadaffi shuffling a bit for a pause and a pose continues, " You mean all this time they came to the dessert to find some Chinese? I don't think so. It's the Internet that is spreading this virus against us. Kim, you are safe because no one really knows even the inches of your shoes. This Internet is in fact the dictatorship of knowledge. Knowledge is free like a virus, you can't control it and since everyone knows- the West has imposed a dictatorship on dictators- it's a dictatorship of knowledge. Its difficult to be a god, an emperor with such irreverence."
'Continue Brother. What do you think our young friend Kabila should do?" Amin asks.
" China! He should stay away from China!" Kim shouts.
" He should probably not make public his threats. Kabila does not talk much so he may survive. If he makes long speeches like his rival Tishekedi it will end badly. Even Assad did not learn giving interview to the Internet. Very bad. Very bad", Gadaffi said mumurring " sons of cockroaches" under his breath.
Just then Bin Laden and Christopher Hitchens stroll in. Both are passing by. Amin proposes they ask Hitchens. " By God it is good to finally meet you Big Daddy" says Hitchens " I liked the movie the Last King of Scotland but I knew there was more to being a dictator as there is being a pocket sized pundit. What is your fancy?"
Comments
comments