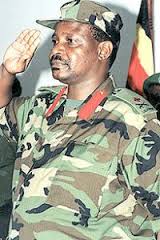 Reading Time:
3
minutes
Victorious in many battles in the Great Lakes Region, veteran soldier Gen James Kazini was this morning found dead in the house of a woman friend in Namwongo Lydia Draru – a Kampala residential area. Details are scanty but bound to spout conspiracy theories for weeks if not years to come. The General was apparently left his official residence in the morning to return to the home of the individual. Nieghbors heard a scuffle and after all was done Ms Draru made several calls to say she had killed the military man.
Its however unclear if police have made a positive connection between the alleged weapon used to kill Gen Kazini and his wounds. There are whispers about accomplices and the mention of money has been made.
Several senior military men including Gen Kale Kayihura and Gen Kahinda Otafiire who variously served with Kazini in the DRC came to the scene. Kayihura who heads the Uganda police is leading an inquiry into the death.
By the time he died Kazini was on trial for causing ghosts on the UPDF payroll and had in a confidential report [ which later leaked] been accused of treason.
Kazini and ghosts
"I am Maj Gen James Kazini RO 1331".
And so begun the controversial testimony of one of the most colorful officers to come out of the Ugandan military stable in the last two decades. The now infamous "Ghost Soldier", a confidential document of the role of Kazini and others in allegedly padding the army payroll was leaked to the press. As a result of the inquiry Gen. Kazini lost is commission as Army Commander and briefly let the country for a military course at a senior officers academy in Nigeria. Since his return Kazini has been facing a lengthy trial over the ghost soldier issue but a final decision by the Gen. Court Martial has been delayed as his lawyers petitioned civilian courts.
The Ghost Soldier report may have tumbled his career but was also a harsh indictment of the Uganda People's Defence Forces and expedited several aspects of its recent program of professionalization like the proper account of force numbers and payment of salaries. Kazini in his testimony, before among others Gen Salim Saleh [President Yoweri Museveni's brother] and General David Tinyefuza [currently Coordinator of Intelligence services], said Uganda had " no standing army". The committee was chaired by Hon Amama Mbabazi- now Security Minister and NRM Secretary General. At one point Gen Kazini who said ghosts on the UPDF payroll had been discovered since 1996 claimed an entire Brigade 405 had been deleted from the books to reduce the strength size.
He also told the committee that UPDF record keeping was so bad that it could not say how many soldiers it had. This he said was because the system of issuing service numbers which identify military officers had been diluted by "NYA's" or Not Yet Admitted- a term that referred to recruits whose commission had not been confirmed but were serving in the army. The General also claimed that UPDF numbers were only boosted by militias like the [ Arrow Boys and Amuka] and recommended "redocumentation". The Ghost Soldier report also revealed tensions among the leadership of the army- with Kazini who was accused of having problems with his juniors- counter accusing others of intrigue and career sabotage. " That me I did not go to school.
That is up to the C.I.C [ Commander in Chief Yoweri Museveni]. The knowledge I have maybe he appreciated it that is why gave me that appointment. To me it's not conflict, its just undermining authority" he said. However despite his defense the case was referred for prosecution. The report of the committee itself was harsh in its conclusion and recommended a death sentence for anyone, including Kazini, if found guilty of creating ghosts.
Comments
comments