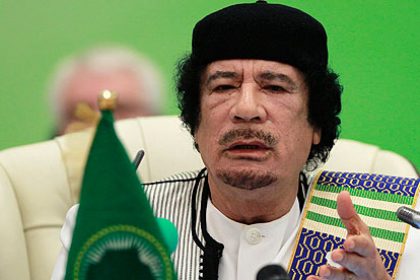 Reading Time:
3
minutes
On Sunday night a bustle of activity caught the attention of guests at the Kampala Serena. Several light skinned visitors sprinkled across the lobby, and across the hallway. A crowed then moved in and the flash of cameras followed the procession, stopping at intervals. Visiting the hotel this time around was the second most famous guest in the history of Serena after the Queen of England.
It was the leader of the Libyan Revolution Col. Muammur Gadaffi. Earlier Gadaffi who travels in princely style flew four planes in Entebbe, with his own "mini-government" of Libyan officials. Besides an advance party, Inside Politics learnt no less than 180 members of his delegation were expected.
There will be a lot of talk about the visit of the Libyan leader especially his sponsorship of one of the largest mosques in Sub-saharan Africa ( named after him) and a series of other charitable ventures of the Libyan World Islamic Call Society.
But Gadaffi's engagement with Uganda has of late been less about charity than the long term policy of the Libyan leader to spread his influence across Africa.
In East Africa fewer Libyan military consultants, the kind that have been active in various "liberation movements" around Africa, are seen.
Instead Libyan engineers and businessmen are a more often sight at swanky hotels and boardrooms. Libyan activity in East Africa reflects the gradual withdrawal of Gadaffi from his much publicised confrontation with the west- that led to sanctions in the 90's- to his focus on setting up Libya has a player in African politics and commerce.
The engine of his commercial-politico engagement has been various firms supported by an endowment called the Libyan Africa Investment Portfolio or LAIP which operates as an investment fund for any lucrative deal that catches the attention of its managers.
LAIP and its subsidiaries are pushing for the privatisation of the Kenya Pipeline company- the largest oil and gas entity in East Africa and have purchased Mobil Kenya. Libya's Tamoil Africa won the Eldoret to Kampala Kenya pipeline extention project pulling out all stops to the deal which was bitterly fought with Chinese backed rivals in boardrooms in Nairobi and Kampala.
LAIP has offered to build Uganda's oil evacuation infrastructure and Libyan minders in Uganda have offered to purchase any business of commercial value in Uganda.
Observers point out that Libyan investments, real and proposed, in the oil evacuation infrastructure in East Africa will make it the main player in the potentially lucrative sector which emphasises its long history as an oil exporter and trader.
However buying up real estate or industry puts it neck to neck with traditional competitors for influence in State Houses across the continent.
Libya's commercial "ambassadors" like long term Gadaffi confidant businessman Habib Kagimu are picking up frequent flyer miles around the continent.
LAIP subsidiaries have bought several telecommunications companies including a majority stake in Uganda Telecom and Rwandacel-while it seeks opportunies in DRC where a telecoms licence is up for grabs.
Libya, traditionally represented by Tropical Africa Bank in Uganda- has expanded its estate in Kampala snagging National Housing – a former state parastatal, investing in Uganda's textile market by buying out the money draining Tri-Star Apparels, while Tamoil, the oil company is expecting to expand its operations.
If Gadaffi National Mosque may stand out in Kampala's hilly skyline, Libyan transactions speak of wanting more influence in East Africa and beyond.
While an African country, the willingness of Libya to compete for projects earmarked by China and India's steamroll through Africa means that it aught to be mentioned more often when the question of the new "scramble" for Africa's resources is examined.
One of the reasons it may not be heard is perhaps because of the discreet nature of Libya's activities. Its multi-million mosque is one of the biggest understatements of architectural and cultural value in the country.
The question remains whether Libya's revitalised commercial and diplomatic overtures can be dissociated from Gadaffi's dream of a united African government? Most likely the answer is that the Colonel is still marching on.
Comments
comments