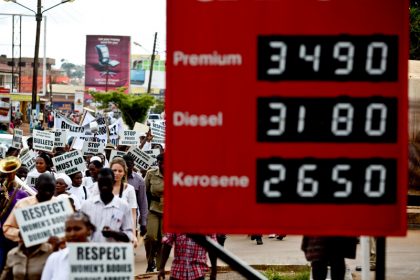 Reading Time:
4
minutes
Uganda and Kenya, one country landlocked and the other with a coastline have taken separate paths dealing with the current fuel crisis, exacerbated in both countries by what have been exposed to be fuel cartels engaging in the creation of artificial shortages in order to further drive pump prices up.
The situation is full of paradoxes when one listens to the government twisting and turning in its various explanations, a fact that may well driven one significant private sector player to propose the radical but pragmatic solution of direct state intervention.
"The current problem is the Nairobi to Eldoret oil pipeline. Where I grew up in Libya they build a latent or secondary pipeline alongside the main one to support it in case of problems. Kenya has had this pipeline for 30 years and is only responding to this problem now," says Habib Kagimu, the Chairman of Tamoil East Africa which has won the joint concession to extend the pipeline from Eldoret to Kampala. Tamoil East Africa is one of the several companies backed by Libyan sovereign wealth funds under the Libya Africa Investment Portfolio (LAP), which is expanding its reach in the oil industry.
Mr Kagimu who granted this interview to explain LAP activities in the region, and within the oil sector in general, argues that the government should intervene to stabilise the fuel market — something Kampala has refused to contemplate. Sunday Monitor last week reported that President Yoweri Museveni had weighed in to get LAP acquisition of a major stake in UTL. Mr Museveni has often been criticised for this type of intervention on behalf of business entities, something he has argued for in the past as being necessary because of the limitation of market conditions. Officially, the Museveni government defends free market policies but there are many examples of direct government intervention, unacknowledged departures from the doctrine of non-intervention in the private sector, which the government has said is the reason it is not intervening in the fuel crisis in any regulatory kind of way.
But the known instances of State intervention, often initiated by the Executive, like the granting of relief to Hassan Basajjabalaba, a major player in the hides and skins sector, or parceling out land for investment, show that the Uganda government like other nations can actually 'interfere' in the market. The question is why has it not done so in the fuel situation? Is it the strength of the oil lobby here? One suspicion is that it could be in cahoots with oil companies to reap as much out of the travelling public as they can. To this, Mr Kagimu, despite being a private sector player, favours aggressive government intervention because he says "it makes sense". "Kenya which is by the Indian Ocean and across [from] the [oil producing] Gulf States has the National Oil Corporation (NOC), a government parastatal which is tasked to ensure there is fuel in Kenya at affordable prices at all times. Why not Uganda which is landlocked and dependant on what happens in Kenya?" he said. Mr Kagimu observed that the government of Uganda must get involved in fuel distribution to prevent chaos in the market.
"Liberalisation is good but where businessmen cannot organise efficiently it's the obligation of government to do so even if we would prefer [as business people] to do it ourselves," he said. Following public outcry in Kenya over high fuel prices, the Kibaki government through NOC has advanced plans for price controls of fuel. Sunday Monitor's sister paper, the Daily Nation of Kenya reports that there is a muted protest to this intention from the leading four foreign fuel companies which control close to 80% of the market. This is in part because their oligopoly was implicated in artificially keeping prices high. But now they have to restrain their appetites for high profit.
"We as government are getting involved in this affair because it is unfair, selfish and dishonest to Kenyans that some oil marketers are creating an artificial shortage. This is an attempt to hold the country at ransom," Kenyan Prime Minister Raila Odinga told the country at the height of crisis in Kenya. The same crisis hammered Uganda but unlike the Kenyan government, Kampala has chosen to allow the market free rein.
And yet neighbouring Rwanda, which like Uganda is landlocked, has also intervened in its fuel market. Of note is the fact that Kenya, Rwanda and Uganda operate variations of the free market economy. Kampala has reached farthest in attempting to totally free itself from business –even in sectors that are of strategic interest to the state. This, according to Mr Kagimu, is not a good thing and he explains why.
"Kenya has a system of industry tender where NOC after collecting the requirements of various companies then puts out a tender. The oil importer with the best price imports for all the companies. That's how NOC imported the cheapest diesel recently," said Mr. Kagimu. Kenya's price controls will set a ceiling arrived at through calculations from prevailing market conditions including the international oil prices — which went from a high of $145 to just $37 per barrel] in the past year, as well as other industry costs like transportation, refinery, taxes and profit margins. Non-compliance by dealers to this ceiling is to be made punishable by a fine and withdrawal of one's operating license.
To stabilise supplies, the Kenyan government will also mandate NOC to import 30% of all the oil products needed in Kenya. The troubles of Uganda's oil market have been made worse by the failure to maintain the national fuel reserves at a time when demand for fuel had more than doubled with increased dependence thermal generation of electricity using diesel generators. Chaos in the market at times of shortage has, as consequence, led to record high prices fueled by speculators and black marketeers while government regulation remains weak or non-existent. President Museveni last week announced that his government intends to build new fuel reservoirs "very soon".
He made no reference to the currently established infrastructure in Jinja that was rendered idle when his government allowed the national reserves to be sold off to private dealers in yet unclear circumstances. In the long-term, the oil pipeline project could bring relief but asked why the project which was approved long time ago is still on paper, Mr Kagimu said his company had not been provided with land for construction and right of way. "It was a government obligation in our agreement. We are ready to complete the project in the agreed time as long as we have the land and right of way," he said. It's unclear if the government will change its position to leave matters to the market.
submitted to the Sunday Monitor
Comments
comments