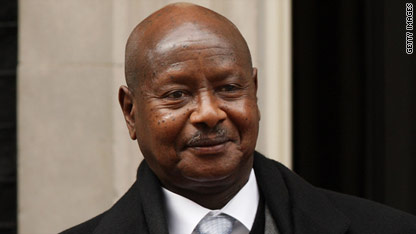 Reading Time:
4
minutes
As Americans stood patiently at the polls to cast their vote many Ugandans were marveling at the ridiculous soap opera of cannibalistic corruption playing out in the newspapers. So severe has been the public anger and disgust about corruption that this writer attempted to invent a word for it. The closest was the lugandaword for cannibal, abasezi, which is also the word for night dancers. What with the ghosts involved, ghost teachers, pensioners, pupils, ambulances and so forth, the apparition of progress seemed to contrast light night and day with the mood after Barack Obama's victory speech.
Not in recent memory has an American election been inaugurated when governance is being vigorously debated as a domestic and foreign affairs hot potato. The withdrawal of aid by donors like Ireland (where the logic of charity in an economic slump made it national news) was met with apologies and an offer of a refund. The idea of the taxpayer offering the corrupt a "bailout" may have offended more than it placated but such has been the pressure that the government has been facing.
Uganda did share a light moment with the United States. The last Ugandan election a year ago like the American one was the most expensive.
There was more however.
While human rights and governance tend to be the main fodder for public debate of what America means to Ugandan politics, the other evil sister of security was also in the news. A United Nations report sparked a "historic" reaction by Kampala.
The country threatened to halt cooperation with the UN over its accusations that it was aiding or abetting a humanitarian disaster in the Democratic Republic of Congo. As the US presidential campaign entered its dying days Hon Ruhakana Rugunda, who once chaired the UN Security Council on behalf of Uganda, was seeking meetings with senior American diplomats over the matter.  On the face of it the Ugandan reaction to the report seemed extreme. But maybe not.
The report had named senior Ugandan political and military leaders and raised the risk of sanctions against them. It remains to be seen which direction the Congo quarrel will be resolved. The many moving parts of Uganda's foreign relations orbit around its powerful presidency whose politics is always a good place to start in understanding why for instance relations with America, under a new if re-elected, President matter.
@BarackObama Congratulations from Uganda. A victory so well deserved! [ Tweet from Ugandan Prime Minister]
As seen, the events this month, have showed up the dilemma of the relationship between Kampala and the West as often a bargain between governance, political reform and security. Add to this mix the "resource race" between Western companies and governments with China-, which also saw a largely ignored leadership change of its own.
Ultimately if aid as leverage is used to pursue security goals it is leveraged back by governments who are partners of those security policies. This reciprocity favors the status quo.  Put differently Obama may claim that what Africa needs is strong institutions and not strong men but in reality him and other US Presidents past have relied on strong men at the expense of the same institutions.
Still his re-election is big news forcing newspapers like this one to print extra editions for the day. It's not unexpected that this would happen. America's place as a super power alone guaranteed that its dramatic race to the White House would grab attention. The election is to politics and public service what the World Cup is to football. Both are major television events. By contrast the meeting of the Communist Party Congress that is ushering in China's new leaders passed quietly. There are no red flags to match the Obama-Biden or Romney-Ryan stickers on the SUV's navigating Kampala's narrow roads
But there is more to the last two US elections.
Mr. Obama's personality, race and African origins (he is practically a neighbor) have made his leadership of America both a political and cultural phenomenon. The Obama grocery shops, butcheries, barbershops that pop up like old election posters, are a reminder of how big 2008 was. Most politicians in Uganda would be hard pressed to name the 4 pillars of Obama's " US policy toward Sub-Saharan Africa" announced in June this year. Even the Ugandan political opposition, who look to Washington like newly hatched chicks do to a mother hen when the shadow of the kite hovers above, barely squeaked. The policy itself according to professional foreign policy watchers and pundits does not say anything new.
Thus with his re-election the four pillar strategy will broadly focus on strengthening democratic institutions, spurring economic growth, advancing peace and security and promoting opportunity and development. The nuts and bolts of this new strategy itself is familiar territory.
When a US Embassy delegation visited the Ugandan Ministry of Foreign Affairs to present the policy, acting FM Henry Okello Oryem waved it aside. As he recalled it later his main message to the professional diplomats was that Obama should "style up" and pay a courtesy call to East Africa.
" He should acknowledge his roots and at least visit Kenya. That's the right thing to do". Mr. Oryem who serves an Administration that has been around since Ronald Reagan was at the White House pointed out that US engagement in Africa was too arms length. "Consider the Chinese. Every two years they meet with African leaders.
One year it is in China, the other year its in Africa. The Chinese President bothers to call. There has never been a US-Africa summit," Oryem said to his guests. As FM, Mr. Oryem like others before him consider an invitation to the White House for his President a major coup in relations with America. Away from appearances, Uganda, enjoys a "healthy" relationship with Washington largely constructed around traditional American approach of this part of the world. "America seeks a hegemon with which to project it's power and interests," this writer was once told by a leading academic at George Town University. Thus Uganda's leaders since 1986 have offered America a natural partnership as a stabilizing force in the region and as an economic model espousing a neo-liberal tradition.
When Mr. Yoweri Museveni came to power Mr. Obama was just a fresh graduate from Columbia University. His time in power would see an expansion of the relationship between the US and Uganda through the Clinton years and the Bush years. In his introduction to the new foreign policy Obama references himself on that maiden speech delivered in Ghana that what Africa needed is not strong men but strong institutions. However to this American duplicity is rather well known and generally expected to comprise the reality of foreign relations.
So far what America has needed are strong men who like the Ugandan president tend to be the primary institution of state. Now with a second term under his belt its unlikely that there will be any surprises in Obama's African engagement and none is really expected.
Comments
comments