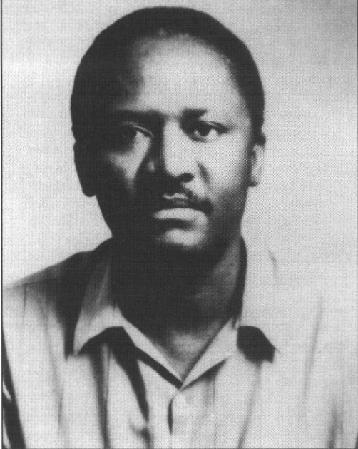 Reading Time:
12
minutes
One of Uganda's most famous literary minds is the poet Okot P'Bitek. A nationalist, pan-Africanist and avid lover of song, word and ideas, p'Bitek served as the first "African" director of the Uganda National Theatre. His views on the place of Ugandan culture in the context of a changing world are captured in his critically acclaimed plays like " Song of Lawino" and "Song of Ocol". Okot p'Bitek died in 1982 while teaching at Makerere after a life lived for his ideas and through the struggle of rapidly changing political tides in Uganda and Africa. As Uganda marks its silver jubilee- I reached out to Okot p'Bitek's daughter, Juliane Okot about her father's legacy and her own writing projects. What do you think Okot p'Bitek  would make of the impact of the  internet, web and the information age on global culture?
As a person of his generation, as we are of ours, Okot p'Bitek would probably see through the fact that real knowledge is not contained in the technological gadgets, however fancy they may be, but in the meaningful interactions we have with each other.  That said, I couldn't say he would embrace it wholeheartedly. I imagine he'd check it out as some of his age mates have tried to.
The internet is a long way away from the dubbed music cassette tapes we used to mix and sometimes copy from the radio as kids when he was alive.  He was interested in what we were doing, and sometimes he danced and sang with us when we played the music.
Its impact on global culture?
Depends on how one defines global culture.  If it's the access that a few of us have spread over long distances, then not much has changed.  Too many of us believe that we're connected more, and that we have more information at our fingertips through the internet.  If the connectedness doesn't empower us to make any meaningful changes, how relevant is it?  I think that Okot p'Bitek would be able to see through that fallacy.
Do you think that his portraiture of the uniqueness of his own Acholi culture, as culture in transition in his works like" Song of  Lawino" , and " Song of Ocol".
These dealt  with the pace of change that perhaps is maturing today?
I think that one can read Lawino and Ocol purely as products of their own time within the couple of decades after independence, but Lawino and Ocol are alive and well in a differently unique Acholi.  The change that has happened in northern Uganda – war, post war, rehabilitation and fallout from that war in terms of widespread lack of education, poor habitation and nutrition says little about the resilience of the Acholi culture.  It survives and morphs and lives on.  The pace of change in Acholiland in general is different from the rest of the country, and I bet it's been faster than in most places as people are eager to get over the trauma from war.  But the nodding disease, outbreaks of various forms of hepatitis and other challenges seem to suggest that there will continue to be a setback in recovery of the community as a whole, but culture, as I understand it, is an ever changing facet of our lives.  If we believe that it has matured, then we're holding ourselves back and that's not fair for the generations that come after us.
What lessons can we learn from his view about that change and its place in society?\
I think that we should not rest upon our laurels, whatever we think we have achieved. There's much work to be done, and much more to learn and achieve.  Even though, as Okot p'Bitek says some "have fallen into things," the weight of those things, the comfort, the easiness of it all, can be hypnotizing and distracting from what we have to do for ourselves, our children and for generations after.
Exile was a huge part of Okot p'Bitek's experience (and in some ways yours), what lessons do you think he brought into his work from his interaction with the world outside?
The quality of being from neither here nor there allows for a more objective and macroscopic lens on that part of the world that one comes from.  Mind, it also allows us, the people of the diaspora to be able to use that discomfiture that is a permanent "sense of being" to look critically at things people take for granted.  With regards to the lessons for Okot p'Bitek, I'd venture to say that living in exile, and having had the opportunity to return home, he was critical of things that did not work and was not afraid to so speak his mind about it.  He wasn't afraid of anyone.  This remains the quality I love the best about my dad.
Is the experience of the diaspora a bridge or a defensive moat?
Neither.  I don't think about being in the disapora in either of those terms at all.  Diaspora was the main theme of my Master's thesis and I vehemently disagree with Salman Rushdie's idea of falling between the homeland and the new home in the attempt to fit in both as the ultimate position of the diasporic person.  I think that diaspora is a psychological condition rather than a geographic disposition or description.  It only exists in the mind.  One can live for decades without ever returning to the homeland and yet retain a more closely authentic (to him or her) than the generations that come after.  One can also completely assimilate and 'forget' about that place over there.  In both examples, there's no bridge if there's no connection and no moat if there is no interest.
In your own experience how is a life outside Uganda shaping your own work as a writer?
If there was ever an authentic diasporan, it'd be me.  I was born in exile to parents who talked about going home all the time, disabusing me of any notion that where we were, wherever we were, could be home.  I learned early to distinguish between home and house and abode.  In my writing, most of the time I feel un-tethered to any place, but I'm very emotionally connected to the country of my parent's birth.  It's how I mostly relate.  But I don't write only about Uganda, and/or Ugandan issues.  I've learned to claim the whole planet as my home and to respect the idea of home as bigger than any one person, community or border.
Would you say Okot saw himself as a nationalist or a cosmopolitan artist with a more global view?
I really don't like the binaries you have presented because they limit the scope of possibilities.  I think that Okot p'Bitek saw himself as a man who had much to accomplish and would not be chained or connected to only one thing. I remember reading about people who wanted to make him fit in one or another discipline.  My dad was a scholar, a soldier, an artist, friend and family man.  He was also a tortured man who had a hard time getting people to see what he was trying to present in his work.
Would you say  nationalism by artists and writers or that community of ideas is important today?
Of course it is.  How do you know who you are if it's not by experiencing the work of the artists about you through storytelling and music and the visual arts, drama and poetry?  My dad tried to answer that question in his last collection of essays The Artist the Ruler, but he didn't finish writing it.  Artists hold a mirror for us to see who we are and gauge the temperature of our efforts as we go about our lives.  They challenge us to think about what we're doing and how we're doing it.  They also let us escape from the drudgery of our daily toils and return refreshed to keep going, or not.  I live in a country in which funding to the arts is continuously facing the axe, and yet, if one looks around, art is everywhere and this place would be nothing if the artists did not persevere.
If so, how would Okot p'Bitek have addressed some of the national issues we are facing now?
I think he'd have encouraged the musicians and writers and painters to continue to do their thing as he did while he was alive.  At The Centre, which I understand is now a church on Kampala Road, there were art exhibitions, live musical performances, international films, public debates, you name it, it was there.  At our house, wherever we lived, people came by and had lively debates about all kinds of things.  Many evenings I remember ended with loud singing late into the night.  That said, there are many creative artists coming out of Uganda today.  Some, as in other countries, challenge the status quo, others don't.  The point of art, in its various forms, I think, is to get us to see the possibilities in ourselves.  I guess the thing is to get people to expect more and do more to change things for the better.
How important is an experience outside writing to contemporary writers? (Okot p'Bitek himself had a full life before devoting to writing)
Outside writing allows us to connect to other people who might present a different way of seeing things.  Chimamande Adichie's Half of a Yellow Sun is stunning evidence that people can write of things and times outside of their personal experiences and yet retain the memory of such a harrowing time that shouldn't be forgotten.  Her collection of short stories, The Thing Around Your Neck illustrates how creativity should not be bound by geographical borders and traditional expectations of what African writers, or female writers for example, should write about. The late Palestinian poet, Mahmoud Darwish makes us all Palestinian exiles and yet is so specifically Palestinian that he died a hero in his country.  We have much to learn from them that can inform what we can consider contemporary writers.
In Okot p'Bitek's generation (actually Ngugi W'Thiongo suggested this when  I interviewed him ) the background of colonialism, its evils and the idea of a new future inspired a flowering of writing and thinking ( in the 50's and beyond). However since then despite wars, crisis and a wealth of experiences both good and bad, Ugandan writing has struggled. As a Ugandan writer, what do you think has changed?
I think that many of us writers have 'fallen into things' and have become complacent and forgotten what it feels like to feel and to have compassion.  It is tempting to focus only on writing about beautiful things, but even that can be dangerous when people understand that indeed, their lives could be more beautiful.  That said, there have been some writers in Uganda who have dared to write what they think and gotten in trouble for that.  I'm thinking about Monica Arac de Nyeko and Olive Kobusingye, but I think that there other Ugandan writers as well.
What would you say you share the most with your late father in terms of his world view?
I think I share an appreciation of art and its importance in the world, but I get this from my mother as well.  My father loved reading as I do and encouraged us all to read for pleasure.
What is the one thing you would say the writing world, the intellectual society and his fans do not know about him?
I was very young when my father died, so my memory of him is of a daughter, not as a grown woman.  I regret not being able to talk to him now and exchange ideas of this and that.  I remember my dad waking me up one morning and taking me to the sunroom beside the living room in Kololo and standing there in silence.  It was not the first time my dad had woken me up to watch the sunrise with him.  On that morning, perhaps a couple of hours before the rest of the house was up, we stood there, facing the garden, the trees that fenced off the neighbour's property and the orange glow of the sun through the branches in front of us.  There was smoke rising from the slow burn of the garbage heap on the north side of the garden creating a silhouette of the papaya tree that was laden with fruit.  My father asked me that morning:  "Should I call my next book Artist the Ruler or Smoke in the Papaya Tree?"  I looked at the papaya tree and thought for a few seconds.  I didn't think it was remarkable that he was asking my opinion, but I had nothing to offer, so I capitulated.  "I don't know."  And then I didn't think about it again until the book was published.  So here's that morning that we had together, just the two of us.
He did like music. Who was his favorite musician?
Honestly, I don't know who his favourite musician was.
My dad loved music and he loved singing. I know he had some favourites among traditional singers, but I don't know who they are/were.  He really enjoyed the music of Afrigo and Jimmy Katumba and Peterson Mutebi when they used to come to The Centre.  He'd go up on stage and sing and dance with the performers and we kids were so embarrassed!
I do know that he did not think much about Bob Marley, who was the man I most wanted to emulate.  At one point, during the Primary 7 long vacation, I decided I was going to let my hair go wild so that I could grow dreads.  My father held his tongue for a few days and one day he unleashed his scorn for reggae and his fury that I should try to look like a Jamaican Rastafarian when I wasn't.  I didn't try to grown dreads again until I was well into my thirties.
Did he ever talk of other artists and writers that he admired?
I think that his contemporaries would know more about that, but we learned so many of what they used to call Negro Spirituals from our dad and his friends.  He loved Handel's Messiah.  Writers he admired?  We had a house with a double-sided book shelf like those in a library.  There were books everywhere. I do recall however, that he thought that a red soft cover book by ( Francios) Rabelais was hilarious.  He kept laughing out loud and he'd share passages with my mother and once he tried to read it to me.  I didn't get a thing that was funny from it but he had tears running down his face from reading that book.
Did he like other forms of art?
My dad loved art in various forms and lived his love of art.  When he traveled, which was quite frequently, he'd return home with masks and basket weaves and odd things from far off places.  He'd buy coffee table books with lovely photography that we leafed through.  He had among his friends playwrights like the late Rose Mbowa as well as Wole Soyinka.  My dad would sit and watch the 'plays' and 'musical concerts' that my siblings and I would act out for him and his friends.  He danced and sang and wrote about dancing and singing.   He was the first African director of the National Theatre, wasn't he?
Which writer today most reminds you of his style?
My dad did his thing and I think many writers do their own thing which makes it unfair to make such a comparison.  Okot p'Bitek started the song school and others have tried to emulate that style, some with better success than others.  In terms of a sparse style that tells much more than is apparent on the page I can only think of Canadian writer Nino Ricci and only specifically in his Testament, a retelling of the story of Jesus Christ.  In that book, you come away with the belief that you now know what the world was like at that time.  It is complete, rich and complex, like Okot p'Bitek's portrait of Acholiland during the early days of Uganda as an independent country whether in Ocol and Lawino's lamentations or in the novel, White Teeth.  You think you know, but the writer has suggested and you, the reader has completed the picture in your mind.  But then again, all good writers are commonly really good and really different.
Uganda turns 50 next year, a milestone for the generation of your father. How will you mark that passing?
Possibly by doing what I do best – by witnessing and thinking about what I'm looking at and feeling.  I'll probably be amongst other Ugandans and well wishers who look forward to celebrating that milestone and think about what it is we're celebrating.  At fifty, it's good be able to look back and say this is what we've done and this is who we are.  It should be interesting.  I hope it's a good celebration.  We'll see.
How do you think he would have liked to?
He'd probably take a critical stance at what it was Uganda was celebrating, but at the same time, he'd take the opportunity to party it up as much as the next person.
What projects are you working on presently in your own own work?
I'm back at school.  I recently began a doctorate at the University of British Columbia in Interdisciplinary Studies and I'm really grateful to be back in academia.  I also teach English (literature and language) to adult foreign students and do some volunteer community work on the side.  I'm a wife, a mother, aunt, and a poet.  That along with and a book-length manuscript that is on the edge of completion keeps me out of trouble.
Are you a Ugandan/Canadian writer or just a Ugandan writer?
There you go with your binaries.  I've been referred to as an African writer and an African Canadian writer as well.  The thing is, my work is not really bound by geography although sometimes it is influenced by being Canadian, or Ugandan or African or north American or Acholi or Black or female.  When a Colombian listener comes to you in tears proclaiming that your work has described her experience, then these things don't really matter, do they? I suppose it is helpful for people to be able to categorize and catalogue things and people, but that's not my concern so much.
Does that description matter?
Right now, not really.  Someday, maybe it will.
Which of your works do you like the most and why?
Right now, there's a strong voice of a woman who's just watched a glass slip from her finger and break, like her marriage, she says.  I've tried to ignore that voice, but it's louder than anything else in my head so I'll probably get her out before I can continue with my other work.  I really like the last short fiction I wrote.  It's called Hallelujah Michael and it came out whole, not feeling like my own creation and I made my whole family read it.  I guess I could say that I like the fiction I write best because I feel like a conduit and get to experience the story as it is formed, like the first witness.  Then I get to craft it.  It's an awesome, humbling and holy feeling, as close to creation as I know how to get.
What is a typically good writing day for you?
It's hard to think about a good writing day.  Good writing moments are times when I get the opportunity to sit and write and when I look up, hours have gone by and I'm elated and exhausted and most thrilled to be me.  Thanks for the chance to chat with you.  Good luck to you as well.
Juliane Okot Bitek – is based in Vancouver (@jobitek)
Comments
comments