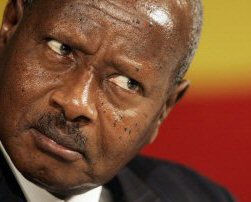 Reading Time:
1
minute
Contrary to the reports that President Yoweri Museveni has rejected the Anti-Homosexuality Bill that the Uganda parliament passed, he has not. His letter below ,to the Speaker of the House, rejects some of the logic of the bill and agrees with others ( particularly legislation prohibiting promotion of homosexuality a la Putin). Some commentators have reasoned that the President has gone slow on the bill due to foreign pressure. Perhaps. I am not persuaded. It may be that the President has evaluated this pressure alongside some of his own thinking which he states in the letter.
The letter which starts by name dropping the Africa critic Rene Dumont ( just heard of him) goes on to provide a 3-D view of the gay issue. It should come with warning of graphic content (or graphic thinking for some readers.  The president's party is likely to review this at some distant future. For all intents and purposes though the bill is dead until State House finds a utility for it.
Read for yourself. Quality of the scan is not the greatest.
Comments
comments