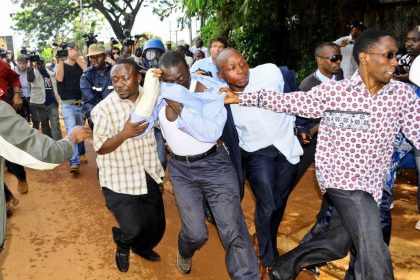 Reading Time:
4
minutes
It is reported now that Santos Komakech and George Agaba, the individuals at the center of the death (s) in Luzira/PortBell may be charged with murder (possibly manslaughter in the alternative). The story is still alive in the news and getting heavy play on social networking sites. The New Vision and Daily Monitor have offered different backgrounds of George Agaba something that will not surprise dedicated readers of either paper. Perhaps less explored still is the context within which these killings occurred. Hopefully the weekend editions of the major newspapers will dedicate space to it.
When events like those in Luzira happen, or the A4C rallies that have set up potential clashes between protestors and the police, occur, emotions headline news and the pace of events dominate the perspectives of most observers. These often stop at res ipso loquitor , that the "facts speak for themselves" even if facts are what they are because of their interpretation and who interprets them therefore matters.
Sometime in November 2011 at the meeting organized for political parties by the Freidrich-Ebert Stiftung on multiparty political transition I argued some of the difficulties for journalism in times of political transition referencing the difficult era of Uganda's immediate post independence political competition.  The paper is here(The Role of the Media in the Transition to Multiparty Politics  (3) a full version is yet to be completed and submitted).
However I wanted to speak to some of the perspectives that will never be fully covered ( and there are many) by journalists even about their own coverage of active news.
In the New Vision followup, one of the women who was evicted from Luzira named as Erina Asiimwe, a mother of four, said she could not reach her husband who was a soldier training at Singo. This is one of the military colleges of Uganda which when I looked up was focused on "Urban Warfare". That the wife of this unnamed soldier was a victim of the evictions and now at the mercy of wellwishers is also not new. The condition of the police and other security forces that find themselves at the frontlines against political forces advocating change through protests is not pretty and that is a fact. Ugandan journalism has long reported this issue- as a case of the conditions of the civil service (the police is a civilian force) but it has also been put to use by political forces in the Ugandan opposition as a reason to mock the 'support" the security establishment displays when protestors are clubbed, pepper sprayed or otherwise brutalized.
However like Erina Asiimwe, many Ugandans, journalists included, have relatives serving in the police or the larger security establishment. Soon after the Luzira story broke alongside a story in the Daily Monitor displaying the facesof plain-clothes security men in action at a rally- several journalists complained of being targeted. One senior journalist believes he was being followed. A suspicious car was parked outside his house on Sunday night.
During Monday's rallies the Chief Sub-Editor of the Monitor Don Wanyama reported on his Facebook page that a photo journalist Isaac Kasamani had been shot at.
"The bullet though missed him. We can only speculate but the story by Sunday Monitor that exposed this new "terror" outfit with their pictures might have unfortunately placed our journalist(s) in the line of fire. I have heard that some journalists have been singled out as targets–and their crime being that they cover events of the opposition. Whoever is behind these evil schemes should know that we are only doing our duty", he said.
There have been appeals on FaceBook for the men to be named.However these "handmaidens" of the state are rarely covered except as brutalizers rarely as victims themselves. This even if they are probably brothers, sisters, drinking mates, fathers and mothers and sources of news.  In Uganda's asymmetrical security system where command and control structures are fluid- a decision to deploy lethal force is not exactly always clear. The men on the ground who make these violent decisions act on orders and have to evaluate them at hostile venues and in hostile conditions. Once exposed public outcry often ensures a long prison sentence, ostracization and a life in hiding. This was the fate of Gilbert Arinaitwe  seen dragging Opposition leader Kizza Besigye above. Even if their immediate bosses offer protection it is limited by bad options especially where the offending act is recorded in full view of cameras. In the case of Arinaitwe, who is sitting out an indefinite disciplinary process in the police, social media sites sought him out and personal events where displayed for all to see who this "monster" was.
When I discussed this dilemma yesterday with a seasoned editor – himself afraid of a backlash on reporters and what he claimed was a dirty tricks season for their editors, he used the catchword "impunity". All of this brings to mind now famous episodes of the same question from Guantanamo to Iraq and now Uganda of how evil is perpetrated by ordinary folk, "good boys" and "family" men.
But first lets consider the dilemmas of the Arinaitwes in the context of superior orders which as we said in the Ugandan system may come from multiple sources (last I checked Santos, according to the New Vision was said not to be a police officer quoting the Police Chief Kale Kayihura even if he was reported earlier to be a policeman), its one of damned if you do and damned if you don't. As multiple authority centers exist so do multiple and some would argue weak accountability systems. The backlash on journalists may not at all be official policy and does not need to be for it to continue. These are dangerous times for journalists as they are for their would be victimizers who at the end of the day may have very thin administrative or legal protection for their actions.
Whenever such issues arise, and as a journalist with experience of the same, I am reminded of the work of Professor Phillip Zimbardo on how takes effect. In particular his assertion that evil " the exercise of power to intentionally harm, hurt, destroy or commit crimes against humanity" occurs not necessary as a pre-meditated action but as the consequence of a blind obedience to authority.  In his book " The Lucifer Effect" he offers as the basis for analysis that we look not only at the "Who" in a situation , where impunity produces horrific dehumanization, BUT also the "What" (the culture, system of rules and their operation).
Hopefully future stories will elucidate the latter as well as the former.
Comments
comments