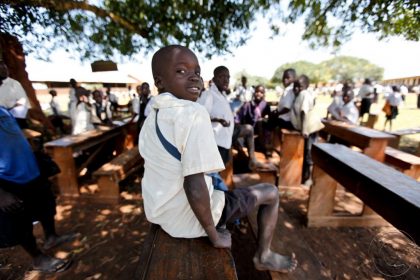 Reading Time:
4
minutes
Ladies and Gentlemen: It is your president….
If Idi Amin had 18 reasons as to why he took over the presidency. Here are the first five as to why National Service for young adults will reshape the country for years to come – if a reformed political process will allow it to thrive.
It is an answer to employment. The idea of unemployment in Uganda is counter-intuitive. Uganda has one of the largest "youth demographics" in the world. Now at approximately 40M people, a whopping 30% are under 10 years of age. I say counter-intuitive because Uganda also has many challenges. This goes from housing, to roads, health care to social assets such as community centres, schools and so forth. No serious program that combines the opportunities that these challenges represent with that of its young energy, represented by the huge young adult population, has been proposed or implemented. A national youth service program – one that is voluntary at O'level and mandatory at A'level could target these challenges systemically. However for it to succeed it has to be conceived holistically. It cannot be Entandikwa, or Bonna ba ggagawale or even Operation Wealth Creation (OWC). These are politically expedient vehicles that have traction because they look to creating value off the land and the land alone. They are not working through a full sheet of programs that combined would create a more connected, holistic architecture for a functioning country. National service would put Ugandans to work but work on their problems, using their labor, around solutions designed for them. The public service ministry, the UPDF and local governments would conduct it
Secondly, it would deal with the confusion about what development actually is. National service is the ultimate social security. It involves, for the generation that goes through it, a year of work that is expected of most citizens. It would be for many the only tax-payer job they would have for a while but it is not employment but more a contributory scheme. If one is posted to work on a paving project in Mbale town and another vaccinating babies in Koboko, each would know that the service they rendered is one they would receive back. They have paid it forward. Development written by our leaders has been uglified by its association to income only. Concepts like "middle-income" are dehumanizing and materialistic and contribute to the very anger about social inequality based on income. In any case they are a poor measure of progress because the value of the things that matter are not in the amount of money it would require acquiring them. The obsession with middle-income is the ideological child of a world defined by western capitalism that still judges societies by what they produce (GDP) not how they solve their own problems
It is the right response to "nationalism" and "patriotism". The patriotism of the present is false. Mostly because it is not resident in a program of "mass belonging" but rather in documents, slogans and government services, all of which are fragile. If 10,000 young people conduct national service they would fan out into the whole country. They would bond as a generation. Their one-year would buck the idea that the country is for some and not others. It would be 12-months in a lifetime, dedicated to a service contracted by their country because of their citizenship. Since typical national service requires a short military course for discipline and teamwork, they would learn the same important history lesson besides being a part of that history. It is in fact by this extension that the idea of a national defence based on professional soldiers and reservists would be expanded and some of the demons of ethnic selection and violence of the past laid to rest. Such patriotism is thus not manufactured for elections and political programming. It is a long-term investment in the commitment of future citizens to recall their need of each other.
It is not the silly bill proposed this week by Members of Parliament for a graduate scheme. That one is not national service but an employment-placing program intended to use the government as a job office. While there can be a place for the public service to use its manpower to link the most qualified students at university to potential employment – it is not national service. Firstly it is very limited and biased toward higher education achievements. A different program for industry-academia relations would be better. That bill, likely to fail in any case, would rather be re-purposed into a larger national service scheme, the kind that seeks to bridge the gap between Uganda's large labor pool and its many challenges and opportunities
It would be, without a doubt, a more coherent and purposeful way to spend youth assistance funds, social protection funds, and vulnerability assistance. The first, the youth funds are fake, have no impact save for window dressing the unemployment issue, and postpone and aggravate youth anger. The second – social protection as conceived are a paternalistic intervention from desperate and in some cases, disgusted donors who seeing that over 25-years of "normal" interventions are not working have resorted to simply handing off cash directly. They are doing what some politicians have long done (with some frowns from the same club), distributing cash. It will not work regardless of the carefully pampered statistics used to further its promotion. It is also scornful and patronizing because it is based on the belief that nothing works, or can work in some "African" and Asian environments. Lastly vulnerability assistance is great for homes that have been separated some normal social protection. It would be even better if state-aided students can spend a year taking care of the elderly and others in this category.
More tomorrow.
Comments
comments