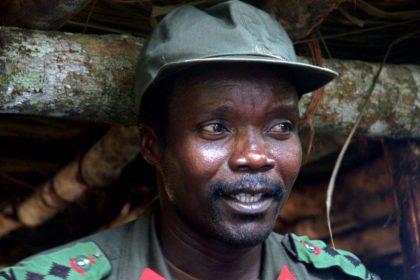 Reading Time:
3
minutes
In a world exclusive first interview, the leader of Ugandan rebel group, the Lord's Resistance Army, has dismissed accusations he is responsible for atrocities. Joseph Kony has been blamed for thousands of deaths and abductions – many of children – and for maiming civilians in his twenty year campaign of terror. The latter he blames on the forces of Ugandan President Yoweri Museveni.
"That is not true. It's just propaganda," he says. "Let me tell you clearly what happened in Uganda. Museveni went into the villages and cut off the ears of the people, telling the people that it was the work of the LRA. I cannot cut the ear of my brother; I cannot kill the eye of my brother."
Along with four of his most senior commanders, Kony is now top of the International Criminal Courts warrant list. Kony alone is wanted for 33 counts of war crimes and crimes against humanity.
Speaking in the jungle of the Democratic Republic of Congo, surrounded by some of what he estimates as 3,000 heavily-armed fighters, he insists he is not the monster he is portrayed to be.
Spiritual leader
Grinning and exposing two chipped and blackened front teeth he looks younger than his 46 years – despite spending so long in the bush.
" I did not kill the civilian of Uganda. I kill the soldier of Museveni. " Joseph Kony
"I am a human being like you," he declares. "I have eyes, a brain and wear clothes but they are saying we don't talk with people, we eat people. We are killers. That is not true. Why do you meet me if I am a killer?"
The scarcely-educated spiritual leader who launched an uprising in the northern Uganda region of Acholi after Museveni seized power in 1986, claims his forces have only targeted government troops.
"It is Museveni who is oppressing the Acholi people and driving the villagers into camps. Our wealth, our property, was destroyed by Museveni. He want to destroy all Acholi so that the land of Acholi will be his land… I did not kill the civilian of Uganda. I kill the soldier of Museveni."
Youths joined the LRA voluntarily but were never abducted, he claimed, "I don't have acres of maize, of onion, of cabbages. I don't have food. If I abducted children like that, here in the bush, what do they eat?"
Asked about the ICC charges, he insisted: "I am not guilty. I am not guilty. I am not guilty. But we want the people of Uganda to be free. We are fighting for democracy."
First interview
He says he is guided by spirits, "I don't know the number but they speak to me. They load through me. They will tell us what is going to happen. They say 'you, Mr Joseph, tell your people that the enemy is planning to come and attack'."
The interview is the first Kony has given to a journalist, he says, adding that claims that he has given telephone interviews to radio programmes are false and the interviews were not given by him.
The timing of the interview is no accident. Kony has offered the Ugandan government peace talks and has a negotiating team waiting in Juba, the capital of southern Sudan.
But President Museveni seems deeply sceptical of his intentions and is reluctant to engage.
"Peace talks are good for me," Kony says. "If Museveni can agree to talks with me it is only a very good thing, which I know will bring peace to the people of Uganda."
Kony's LRA subsequently received weapons and other support from the Sudanese government to punish Uganda for supporting southern Sudanese rebels.
The LRA have combined the fanaticism of a cult with ruthless military efficiency, and while its apparent aim is to impose the Ten Commandments on Uganda its means could scarcely have been more evil.
Watch the full interview with Joseph Kony via the 'Watch the latest programme' feature on the Newsnight website until 2300BST/2200GMT Thursday 29 June. Story from BBC NEWS: http://news.bbc.co.uk/go/pr/fr/-/2/hi/programmes/newsnight/5124762.stm
Published: 2006/06/28 11:12:25 GMT
© BBC MMX
Comments
comments