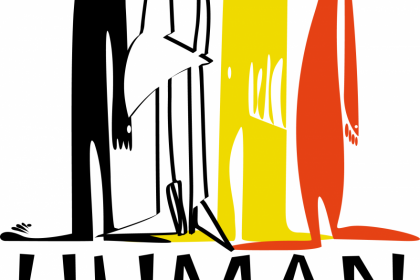 Reading Time:
2
minutes
Ugandan journalists have taken their protests over a media crackdown online as a shut down of two leading newspapers and several radio stations entered a full third day. In previous years, and before FaceBook, Twitter and smart phones became as essential to the news business as the pen, notebook and typewriter; a clampdown may have been met with physical protest marches up and down Kampala road.
 Pictured above Geoffrey Wokulira of the Human Rights Network for Journalists at a protest outside the Daily Monitor. As police occupy two newspapers, many find freedom of speech online.
However in the era of instant messaging, technology has allowed many journalists affected by the media attack to build sympathies with a techy and younger generation online and also give voice to the question of free press and freedom of expression on the web.
All round global coverage of the media shut down which started on Monday is one mark of how fast and furious the Internet is. While physical presses of the Daily Monitor and the tabloid The Red Pepper were disabled (the Red Pepper published a "guerilla" edition from a yet unknown location), the publishing houses have continued to maintain readership online, alongside blogs and online newspapers.
Technology has always been an important game changer for the industry associated with independent journalism in Uganda. Monitor Publications, which publishes the Daily Monitor, is for example one of the first indigenously owned newspapers to go online. But the lowering cost of printing presses themselves allowed private investment and with it independent views to flourish.
Over the years technology has affected the media business immensely. Uganda has nearly 300 radio stations due to the ease with which they can be set up. Mobile telephony and now the Internet has also affected the way the media interacts with its audience and the news with texting and now Facebook/Twitter becoming both instant responses and sources of news themselves.
And now social media has become an essential weapon in how the media defends its freedoms too.
In the wake of a government shutdown the conversation on press freedom migrated online with organizations like the Africa Center for Media Excellence (whose founders were both media educators and editors at the Monitor no less) taking a strong stance on the matter.
After a brief scare that the Ugandan Communications Commission (UCC) may attempt to interfere with social media, many online protestors took the gloves off in their outrage over the actions of government (UCC itself says nothing about the situation on its website. However the Uganda Police force website is testimony to the media war online)
Perhaps emblematic of the times, the issue at the heart of the shut down, a debate on political succession is itself couched in generational terms in a country with one of the youngest populations on earth.
Comments
comments