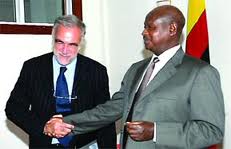 Reading Time:
3
minutes
Doing some reading to prepare for an upcoming talk I came across this odd, if bizarre reference to "Argentina House". The reference is recorded in the official account of the "Commission of Inquiry into the Violation of Human Rights" chaired by a now deceased Ugandan judge, the late Justice Arthur Oder.
What is odd about the reference is that "Argentina House" (Plot 7, Neptune Avenue, Mbuya) was a place of detention and torture, so-named because of the period, the late 70's and 80's, when state sanctioned disappearances were rife in both Uganda and Argentina.
Mbuya is still today maintained as the headquarters of the defense establishment and like other privileged hills is home to some of Uganda's wealthiest citizens.The history of the Ugandan military over time and Mbuya hill can fill several books beyond the accounts recorded in Justice Oder's report.
Much of it is not very happy.
The commission noted not amusingly how oxymoronic the places of death and suffering were named like Argentina House (one would think it was a place of diplomacy). But consider the so-called Public Safety Unit at Naguru, a vile place were skulls were crushed and broken bodies dumped in vehicles never to be seen again in the same period.
In the period after 1986, many came to look to the so-called "safe houses" with the same cynicism, if anything because they were not safe at all.
Argentina House according to the commission was dubbed so because of the Latin America's reputation for forced "disappearances".
" The Ugandan version was scarcely less terrifying," they wrote
In their evidence one witness Sula Kiwanuka recalled how having been transferred from "Nile Mansions" (again not a place for consort, relaxation and umbrella drinks now Serena Hotel) he and others were "thrown into a room completely naked except for those who had underpants". They were told by the Innkeeper from hell, an elderly sergeant that " Here, you are brought here you can count yourselves dead".
This innkeeper was a death roulette.
" [He would] simply look around, I do not know what criteria he used, he would pick you and say, "You come here". If you hear you have been picked that is the end of you". Terrifying details of torture, weapons and methods of torture are included; beatings and killings went on in what was an official place of business, the business of the government of the time.
One brutal account was referred to as "removing the fuse," according to Kiwanuka in reference to the beating of a Mrs. Cissy Kagodo and her brother called Nsubuga.
" This man [the brutal innkeeper] had beaten Nsubuga. The man had beaten all his ankles, Nsubuga would not stand up at all because they used to call it removing the fuse, I do not know which fuse. They had beaten all his ankles and here in the knee, I understand there is some liquid inside the knee- this one had gone out."
Many Ugandans below 35 hardly recall this history and those older have forgotten much of it.  They mostly confront new horrors still lurking around of brutality in the hands of the state some of it now also documented in the annual reports of the Uganda Human Rights Commission. However latter day atrocities have occurred in the context of stronger state institutions than those under siege from civil war in the late 70's and early 80's. It says something about the importance of institutions of authority in understanding what the Kiwanuka's and countless others experienced as evil-, which is basically impunity.
A good account of this sort of take is by the psychologist Phillip Zimbardo in his book "The Lucifer Effect". Kiwanuka was in hell at this Argentina House. Detainees including a teenage boy were dying of disease, suffocation and from their wounds. He says some of the prisoners were stinking because their flesh was rotten "You could see maggots coming out of their bodies". He survived Argentina House, amongst 11 people of the 35 who had been moved there during his time. They were "congratulating" themselves for having made it to Luzira Maximum Security Prison. "Some soldiers who had seen us in Argentina …and saw us in Mbuya jail, said you are very lucky, your friends are already finished", he testified.
Argentina and Uganda had a re-coupling on the issue of human rights not so long ago. The latest hellish figure to scale the ranks of not just Uganda's own unique capacity to spit out evil but one who would be the "most famous" war criminal in the world, Mr. Joseph Kony. In 2003 Uganda referred the case of the LRA, the organization that Kony led, to the International Criminal Court (ICC].  It was the court's first case. Its prize offering to the world about how impunity was to be addressed. The man who became the face of the Hague-based institution and its first Prosecutor was Argentine Luis Moreno-Ocampo, a lawyer who made his name sending to jail the generals of the so-called "dirty war" in Argentina.  .
Comments
comments