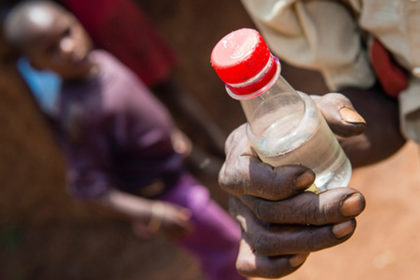 Reading Time:
6
minutes
Long read – About a year ago in Karamoja I learnt that deaths from alcohol consumption were only rivaled by deaths from malaria. So critical was the issue of individuals drinking themselves to death that the local Catholic Church, which conducted a study on the problem, dubbed alcohol the new "gun" that was cutting short lives in an area known for gun violence from cattle rustling.
This social crisis in the case of Karamoja has gone mostly under responded to by local and central government authorities mostly, in my opinion, because interventions on social policing, were agreed upon, such as the use of taxation to constrain certain habits focus not on their impact on the quality of life but rather on the amount of value (money) the government can make from it.
If not the government certainly the cartels that swarm like locusts to every opportunity that presents exploitation of the vulnerable.
A senior prisons officer told me a story that depicts the crisis in Karamoja. At lunchtime at Namalu Prison, local Karamojong families gather around the fence to watch inmates, including natives have their lunch. They often beg for and are given leftovers by the natives incarcerated there. "The Karamojong prisoners who are few here are some of our most obedient and dependable inmates because they don't want to leave the facility. In prison they are given three meals a day and look healthier than when they arrived and healthier than the Karamojong begging at the fence" he said.
Lack of food is ironically one of the reasons given by Bishop Damiano Guzetti of Moroto Diocese who commissioned the study on the impact of alcohol especially distilled local brews and now lowly priced sachet versions that are available in every shebeen in the towns and villages of the districts of the region.
Bishop Damiano said food was the missing alternative to alcohol which is often given to toddlers amidst the frequent famines here to prevent them from crying due to hunger. When he first came to Karamoja as a young man – he recalled, the planting seasons and harvest seasons would blossom with activity as families worked hard to take from the land. Even during the low intensity, but violent era of cattle wars, food was available. "It's the last ten years in which Karamoja has changed" he said.
The irony was not lost on me. Eastern Uganda including Karamoja was suffering a low intensity famine even as government officials and politicians were complaining about lack of markets for surpluses elsewhere in the country. This imbalance is a fraction of the evidence that markets cannot fix everything and often create persistent inequality despite the official worship of market forces and the hype of investment by the central government – more of this another time.
I was sitting across from the Bishop, a bespectacled man who looked more like a manager in a carpentry workshop than a cleric, and the former Ugandan Minister of Works John Byabagambi, a portly career politician, who is now the Minister for Karamoja.
The meeting had been arranged by me (at the request of the Bishop) to discuss the alcohol crisis. The Minister was kind enough to meet on short notice to interact with Church officials who hold some sway in the community. I knew John from his time in the Works Ministry – where I had banged heads with his senior John Nasasira for years. The last time I met John Byabagambi before we crossed paths in Karamoja was at the Kampala golf club where a friend had suggested we talk about the wide ranging government corruption investigation into the roads sector which had resulted into the jailing of his colleagues.
The Comboni study, we all agreed, was truly heart-breaking.
In Matany, the main hospital in the region, deaths from liver diseases are mostly due to alcohol (excluding liver cancer and hepatitis).
In the year 2014-15 there were just 81 cases of alcohol abuse in Moroto Diocese. That figure jumped to 655 by end of 2016. A similar pattern follows across Karamoja.
In 2012 liver disease was the 13th registered cause of death in Matany after malaria, anaemia, pneumonia, AIDs and so forth. At the end of 2014 liver diseases were the 3rd cause of death in Matany and the second cause of all fatalities in 2015. Alcohol related diseases were well on course to be the leading killer of Karamojong by last year and the leading cause of admissions.
Now the number of outpatients treated from alcohol abuse represent the main burden of disease across the region. According to a preliminary investigation by the Moroto Diocese, the bulk of the alcohol in Karamoja is distilled in Jinja then imported and packaged into 100ml sachets for distribution at 500 shillings each in Karamoja.
It is a high alcohol product that is in such demand that some mining companies, especially those reportedly buying marble from quarries up on Kisoroi, Mount Moroto, are using sachets as a currency to pay artisanal workers.
These mining gulags are little more than open prisons of poverty where desperate men, women and children are worked to poor health and death, often in the sun and high on alcohol. Poor regulation means, according to the study, that alcohol is sold to minors with trucks rolling in "full of alcohol" only to leave "full or marble". In Moroto district council passed a by-law authorizing seizure of alcohol trucks, but this instead as bred a robust black market instead.
The emerging picture of profit over people – where profit often means money and the benefits from it do not come to light until one considers how complicit the rest of Ugandan society are in this travesty.
Firstly, few Ugandans are aware that a tragedy of these proportions is on-going in Karamoja. Secondly even where it is known, the way that public health issues are articulated in the public obfuscates rather than enlightens on the plight of the affected people. Most theses of health issues dwell on systems, products and procurement and only occasionally on patients. Often public discourse tends to blame victims here and Karamoja is no different. It is not unusual for government officials and NGO workers to focus on getting the Karamojong to adapt and integrate as their main response to wider socio-economic problems.
If collectively the Karamojong have not raised their voices high enough to be heard it is not clear to me that wider society would care even if they did.
Two examples of obfuscation stand out for me in the game of profits before people. When doctors and public health practitioners were picketing the government for increased wages it was lost on the ensuing debate that public health in Uganda was only public by name.
Only 25% of registered doctors (1000 out of slightly over 5000) were government workers. Majority were private sector practitioners and likely including the 25%. The narrative that the issue of wages was a public health crisis which took the day was as false as a fake Hepatis B vaccine.
In effect a matter of wages was presenting as a major crisis for government health delivery rather than strengthening of regulation – a more urgent issue where delivery of health services is predominantly private. The narrative that emerged thus hid in plain sight a major failing of the government which rather than dwell on its inability to pay wages should have focussed on its failure to exercise proper regulation on health services paid for mostly out of pocket.
This happened mostly because Ugandans responded emotionally to the strike by medical workers as victims of a wasteful and selfish government that spent on its privileged members (MPs, ministers and relatives), procured expensively and turned the entire enterprise of public health into a criminal one (often blaming patients in some areas for voting the wrong politicians to office for their woes).
It had little to do with the core issue of the quality of public health delivery both in government hospitals and elsewhere.
Another example is the question of alcohol taxes themselves. In the latest round of proposals on excise (or consumption), a vital tool for imposing so-called social taxes ( like discouraging smoking through incremental taxes) has been instead turned on its head. The discussion on these social taxes including on internet data dwell on how much money the government would earn (that is apparently not collecting from other activities).
In the case of alcohol a new levy of 30% per litre has been placed on opaque beer produced locally (like Ajon and Kwete). The taxes mostly avoid the sachet waragis which are not produced by litre. At 30% excise Ajon/Kwete/Malwa will now cost close to Senator Beer and other low end clear beers and likely wipe out a domestic industry less destructive than the high alcohol sachets wreaking havoc across the country. The new proposals are effectively signalling to poor consumers to drink less Malwa but more sachet alcohol since they would prioritise the cheaper source of their drink.
Why would the Ministry of Finance widen the market sachet alcohol in the name of "widening the tax base"? Perhaps it is the (rumoured) powerfully networked alcohol lobby whose illegal profits are allegedly widely shared and valued.
This is no relief to Karamoja but also reflects on a more serious problem with how public interest is conducted in Uganda in an environment where capital and investment are fetishized by political actors who preach that false promise that their contemporary proposals of wealth creation are the ultimate engine of "service delivery" and the end of poverty
Comments
comments