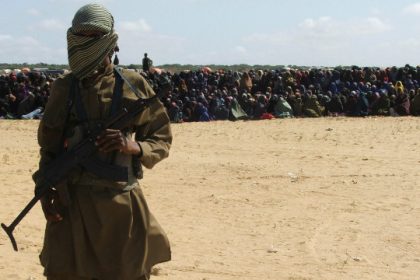 Reading Time:
4
minutes
" The Taliban of Somalia" as the Al Shahab, a violent mutation of the protracted conflict in Somalia where the Ugandan army is the largest part of an African Union peacekeeping force, have warned Kampala to get out or else.The group, whose membership is young, frustrated Somali men first emerged conducting daring raids in Mogadishu's main Bakarra market has evolved into one of the most significant security challenges to the Ethiopian backed interim government there. Its tactics, use of road-side bombs and "suicide attacks" have made watchers to draw the conclusion that the Shahab are receiving help from like-minded radical Islamic militants like Al-Qaeda.
Al Shahab has already been designated as a terrorist group by the US State Department whose ally in the region, Uganda, was the first to volunteer peace-keeping troops to the troubled country. Last month, a 24 minute recording attributed to the Al Shahab was posted on a website in which its alleged leader, a man said to be trained in Afghanistan, called for attacks on AU troops. Ugandan troops will remain in Somalia at least for now, but after the Mumbai attacks in India, the question of whether or not there is a real danger to Uganda from extremists is most likely linked to this group's capacity to expand its strategy to direct attacks on cities like Kampala. In 1998 when radical Al-Qaeda linked Islamists bombed the US Embassies in Nairobi and Dare salaam, the plan according to junior defense Minister Ruth Nakabirwa was to bomb Kampala as well. "We survived partly because we are vigilant and lucky.
Even now we know we are vulnerable" she said in an interview on Thursday. Uganda's Internal Security Organisation which is charged with domestic security had by press time set up an internal work-shop to assess Uganda's exposure level following the Mumbai killings. A senior officer with the organization told Daily Monitor while Uganda was building am anti-terror workforce capacity it still had a long way to go if anything was looking at what lessons could be learned from India's tragedy. He said Uganda's Israeli and Chinese trained squad was still " low grade". When contacted Dr. Amos Makumbi politely declined to comment on the issue and refused to discuss either government's strategy nor Uganda's exposure in general to international terrorism. If the Al-Shahab do not pose an immediate challenge, the prospect of some type of terror attack linked to radical Islamists is something that Uganda will have to contend with in the long term. Somalia has recast the Horn of Africa's own case of a lawless, radicalised state teeming with arms and jihadists, which is also the confluence of a regional geo-political contest, in this case pitting US allies like Ethiopia and Uganda against Sudan, Eritrea and Egypt. In the port city of Kismayo, a woman was dragged pleading for her life and stoned to death for alleged adultery under Islamic law as armed Islamists which include the Al Shahab looked on scenes which not long ago were the routine of Taliban controlled Afghanistan. Perhaps in a like mold, if the perpetrators of the attacks on Mumbai where linked to nearby Pakistan which has been mired in a proxy war with India in the disputed region of Kashmir; in East Africa's own version, Ethiopia and Eritrea [ which has been accused of supplying arms to the Al-Shahab] are locked in their own decades long conflict.
Such politico-military conflicts have been infected with what Ugandan academic Columbia University based Professor of government, Mahmood Mamdani discusses as "political islam"whose most infamous weapons have been the use of terror tactics which are as severe as the breakdown in law and order With no immediate or medium term resolution to the conflict in Somalia, together with its regional baggage, it is not farfetched to expect a terror attack on any of East Africa's cities, including Kampala. Uganda has been on an extended terror alert according to security sources, all linked to violent Islamists. In September , two suspected terrorists of Somali origin boarded a KLM-Kenya airways flight to Entebbe and were reportedly planning an attack in East Africa when German police arrested them. There have been other incidents to suggest Uganda is not safe.
"We know that terrorist plots and activities are around us" said Internal Affairs Minister Dr Ruhakana Rugunda at the time. But for all the confidence that it can prevent a terror attack, Uganda is far from impenetrable and is infact a soft target for terrorists. A combination of open borders, document fraud , corruption in government institutions like the police, financial fraud including bank fraud, a large refugee community, drug smuggling and trafficking in humans, fragmentation of Uganda's numerous intelligence organisations and so forth show not a country prepared but one that has not yet been a victim of a "Mumbai scale" organised terror attack. Where organized crime pervades so can terrorists.
For several years now Ugandan police have been confronted with cases of human and drug trafficking linked to Pakistani and Indian nationals hubbed in Mumbai. In 2004, it emerged that young dancers in Mumbai had been smuggled into Kampala and forced to work as prostitutes. If organised crime linked to foreign nationals based in countries where terror groups are already active can flourish in Kampala, the same systems can be used to plan attacks, or so the logic goes. "We are lucky that we have a Muslim community that is indigenous unlike Kenya which has a large Arab-Swahili community" said Prof Ogenga Latigo, the Leader of Opposition in Parliament.
He says the ability of terror groups to blend in is a key asset, but adds that with poverty even indigenous Ugandans can buy in on attacks on their country and an agenda set by radicals. The militant Allied Democratic Front, which has been linked to Al-Qaeda, recruited from poor Muslim neighborhoods and was, accused of the 90s bombings of pubs in Kampala. Perhaps the one drawback for would-be terrorists and Uganda's own security apparatus is that Kampala is swift to act on armed opponents who are generally viewed as a threat to the military-power base of the Yoweri Museveni regime. In 2002 the regime not only criminalised possession of arms but also made it a military offense, following a domestic crime surge.
While terrorists may not be within the frame of Kampala's view of political opponents which tend to be domestic, the intolerance of the regime for armed opponents is high and its vast networks which spread to villages [ and are targeted at local political threats] can easily be mobilised to flush out terrorists if not before they strike soon afterwards. But should the Al Shahab or other group plan a walk into any of Kampala's major hotels, not much stands in their way of turning this city into what has become India's worst nightmare. aizama@monitor.co.ug
Comments
comments